Kristin Hersh – Wyatt at the Coyote Palace
(Omnibus Press 2CD + hardback book)
I've been listening to/reading Kristin Hersh's new album/book Wyatt At The Coyote Palace (out on the 28th of October from Omnibus Books) for a couple of weeks now, and it just keeps getting better. I can't remember hearing a more wearily grown-up line than 'Back when everything was gonna be alright', and Wyatt… , a double album of mainly acoustic (though not necessarily gentle) songs, is full of complicated adult feelings and the kind of powerfully resonant phrases (musical and lyrical) that have always filled Hersh's work.
The beautifully-produced hardback book + CD format too, is familiar from some of Hersh's earlier work, and it's hard to think of another artist who works so well with the realities of the music industry as it is in 2016. Her work with the non-profit CASH (Coalition of Artists and Stakeholders) and determination to work independently from the mainstream music industry, in collaboration with her fans, as well as her acknowledgement that there is (or should be) something special about the album as a physical object means that albums like this, or Throwing Muses' Purgatory/Paradise are pleasing works of art as well as collections of songs.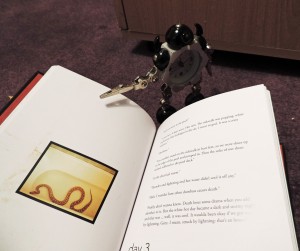 Wyatt At The Coyote Palace is a true solo album; where the artist not only writes and sings all the songs, but even plays all of the instruments (including guitar, cello, horns, upright bass and piano and even some instruments she built herself) as well as using found sounds recorded during her many travels. Like her solo work from '94's Hips and Makers onwards, the album feels not only personal, but intimate; an encounter with another human being's interior monologue; warm, ironic, tender, obsessive, at times desolate. The subjects of the songs – even when partly elucidated by the sometimes-related anecdotes that make up the book – remain enigmatic, but all the more emotionally charged for being allusive rather than explicit. Which is not to say that the language Hersh uses is at all obscure or flowery; quite the opposite in fact, its compact and sometimes bluntly straightforward quality ('I'm still fucking fried post-ablutions and plane drain') makes the words, and the feelings behind them resonate and linger in ways that the blatantly cathartic platitudes of angry or angst-ridden rock rarely do. Readers of Kristin Hersh's brilliant 2010 memoir, Rat Girl will find that the awkward punk rock teenager who belonged nowhere and everywhere is touchingly still there, much as she was, only buried inside the wiser, more philosophical ("if we watched all moments as carefully as we watch car crashes, we'd never fuck anything up.")  and well-travelled mother of four.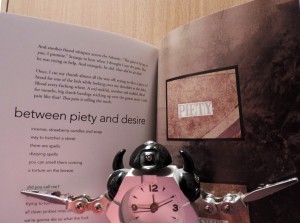 Where sonically, the tone of the album is warm, richly textured and organic, it is emotionally extremely variable (troubled, tired, happy, resigned), but the book by contrast has a humorous, wise and self-aware tone. A dialogue between Hersh and an unnamed interlocutor, it consists of a series of ironically light-hearted anecdotes about the singer's many brushes with near-death and disaster, interspersed with the song lyrics. The stories are in many cases intimately related to the songs – often seeming to be the incidents that inspired them – but rather than the stories 'explaining' the lyrics, often it feels like the songs reveal the emotional depths that the stories, in their wry delivery, often imply, rather than describe. There are also (if one listens to the album first) some revelatory moments in the text which give life to apparent non-sequiturs in the lyrics ('street puke's not your fault!' being one particularly striking example.) The title, as I should probably have mentioned earlier, relates to Hersh's son Wyatt's relationship with the surroundings of the recording studio during the time the album was being recorded, adding another layer of intimacy to the enclosed world of the album.
It won't surprise fans of Hersh's solo career to find that Wyatt at the Coyote Palace only occasionally sounds like Throwing Muses; mainly in its more dynamic, straightforward moments, as when 'In Stitches' switches gear from its opening tense-but-tranquil verse to the forcefully strummed and catchy (but still quite tense) verse/chorus, or the rock-flavoured prowl of single 'Soma Gone Slapstick'. Mostly, the listener is alone with Kristin Hersh, which is as always a wonderful and fascinating place to be. Wyatt At the Coyote Palace, with its themes of  communication and miscommunication, growing up and not growing up, catastrophe, near catastrophe and the essential mundanity of both,  is autobiographical, but it's autobiography as collage, as poetry even; the oft-made comparison with Sylvia Plath has never felt more apt. As Philip Larkin noted about Plath, whose writing he admired almost unwillingly, 'it's hard to see how she was ever labelled confessional' – and like Plath's poetry, Hersh's songs convey an emotional charge (not least because of the strength of her expressive voice), but from oblique and fragmented narratives. As music, though, it isn't fragmented; although many of the tunes are growers rather than immediate in their appeal, the beautifully warm and rich sound makes it an addictive listen which repays close listening. In fact, Wyatt… is an immersive experience; the use of photographs and illustrations in the book and – especially through headphones – the closeness of the music and the use of found sounds and half-heard conversation – feels like life. And when a great artist invites you into their life it would be rude not to meet her half way.