Towards the end of his all-too-short life, the great Jimi Hendrix 'enjoyed' two parallel careers; as the innovative, genre-defying guitar god of Electric Ladyland and Band of Gypsies – and, somewhat less prestigiously, as the obviously talented but non-extrovert guitarist on a range of cash-in albums. Once the last of his late recordings had been released as the excellent The Cry of Love and interesting but so-so (by his standards) Rainbow Bridge in 1971, the vital genius-laden music began to dry up and the exploitative, commercially-led search for undiscovered Hendrix recordings began in earnest. In true 'reissue, repackage, repackage' style, this series of albums began when tapes came to light from an impromptu recording session with his old friend Curtis Knight in 1967 and went on posthumously as record companies sought out every note he had ever played both in his pre 'Experience' days and in off-duty moments.
The albums are many and varied, but some are definitely worth a listen; these are not the best but are ideal for those who find 'classic' Hendrix a bit too innovative and perhaps self-indulgent:
The Eternal Fire of Jimi Hendrix (Hallmark Records, 1970)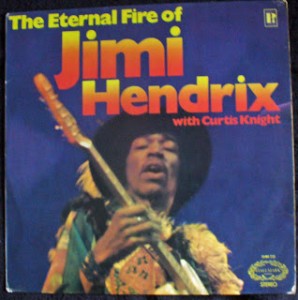 This album, consisting of tracks recorded with Curtis Knight in 1967 comes with a long, extremely disingenuous sleevenote which begins , "This is the cream of Jimi Hendrix, when he was in his prime." Indisputably, he was 'in his prime' in 1967, but although it certainly sounds like he is having fun, this collection of loose covers and Curtis Knight originals is not 'the cream of' Hendrix as that is usually recognised. What is great about the album is that it showcases Hendrix's not-always heralded skill as rhythm guitarist and puts him into more of a soulful, r'n'b-ish context than on his classic albums. Highlights are Knight's 'How Would You Feel' and an informal blast through The Beatles' 'Day Tripper', plus some very nice wah-wah on the instrumental 'Hush Now'. definitely not transcendental or visionary, but demonstrating just how great Hendrix would have been as the guitar player in a garage band.
Birth of Success (Music for Pleasure, 1970)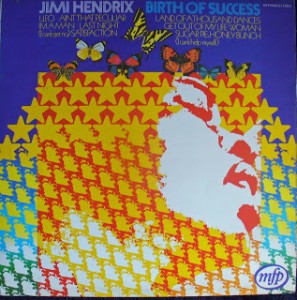 A very cool ersatz psychedelic sleeve houses more Curtis Knight material, this time mainly live recordings and several leagues of magnitude rougher than on The Eternal Fire… but sadly, without any sleevenotes as justification. Again the songs (such as 'Satisfaction' and 'Sugar Pie Honey Bunch') show, despite the muddy sound, what a great non-frontman Hendrix could be. The best thing here though is arguably the one studio recording; a very twee psych-bubblegum-pop song called 'UFO' probably recorded in 1967 by 'The Jimi Hendrix Sound', a band formed a couple of years earlier, which included Hendrix, Curtis Knight (on drums) and Ed Chalpin. It's absolutely a novelty song of the kind parodied by the Coen brothers with Inside Llewyn Davis' 'Please Mr Kennedy'. 'UFO' comes complete with a 'Laughing Gnome'-like speeded up alien voice in the choruses;'Voodoo Child' it isn't.
Tribute to Jimi Hendrix: The Purple Fox Sings and Plays (Stereo Gold Award, 1971)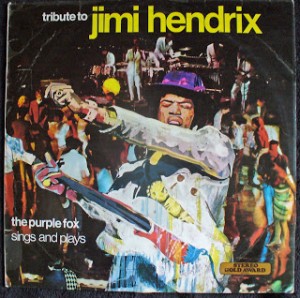 As the title suggests, this is not a Hendrix record at all, but in fact an inept, amusing, but very likeable cash-in which shows that, although his abilities cannot be easily imitated, the basic sound of the Jimi Hendrix Experience can. The covers here are perfunctory in the extreme (like the guitarist – presumably Mr Fox – doesn't play solos, mostly), but the very peculiar original pastiches like 'Acid Test', 'Patch of Grass' and especially 'Gittin' Busted' with its police sirens and incoherent mumblings are pleasingly funky and highly entertaining although not exactly the greatest tribute ever paid to a major artist.
All very silly, but it's a sad reflection on the current state of the music business (or just popular culture) that the high-profile deaths of musical icons this year will probably not result in cheap cash-in albums of recordings we were never supposed to hear or slapdash pastiches by psuedonymous session musicians who can only imitate the most obvious, cliched aspects of their art. We'll just have to remember them at their best I suppose.