Singer and multi-instrumentalist Abi Bailey has an impressive list of credits to her name; as a session musician she has worked with Emilíana Torrini, Sylver Tongue, Brian Eno & Karl Hyde, among many others, but her work as a solo artist is even more impressive. Her debut EP, Blemishes, released under the name Kib Elektra and available as a limited edition cassette here through Bezirk Tapes, is a strange and beautiful collection of beguiling and intricately detailed glitch-pop songs and Abi was kind enough to take the time to talk about it, and various other things, so without further ado….
Although Blemishes is your first solo release, you have a lot of experience as a musician, do you feel very at home in the studio?
Hello Will, thank you for having me!
Yes I do feel at home in the studio, I like my own company and will happily spend hours on end working on ideas. The technical side of working as a producer is something I've had to brush up on a bit as I hadn't really written seriously for quite a number of years. I've been enjoying experimenting with the new technology available to me
Where did the name Kib Elektra come from? Is there a difference between 'Kib Elektra' and 'Abi Bailey'?
When Blemishes was being mastered I sat behind Sam [Norland], my master engineer in the studio and had the joy of brainstorming an alias for the project. It took ages but eventually I settled on Kib Elektra. Kib is a nickname of mine from childhood and Elektra is a girl's name I like, it's got a nice ring to it; and so I went with that – nothing profound I'm afraid! As for any difference between KE and AB.. none really – Kib Elektra is a part of me.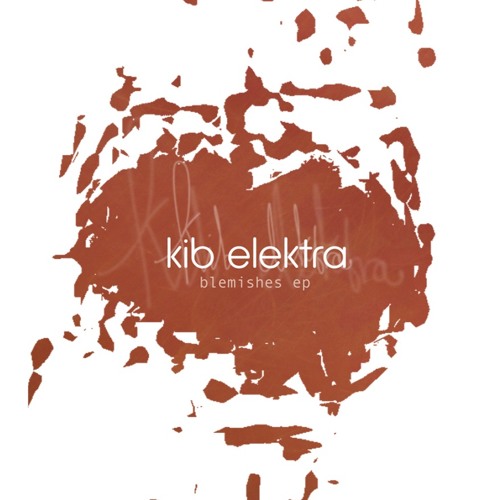 A striking aspect of Blemishes is the balance between electronic sounds and the more organic/human elements, but it's not an obvious contrast; sometimes you have 'perfect' electronics and 'imperfect' vocals and in other places a quite angelic, pure vocal with a very glitchy bit of electronica, but do you differentiate between organic/synthetic/found elements or is the process different with each song? (what a question! Sorry, I hope you get what I mean :/ )
I've definitely been exploring the voice itself, as well as the ways in which to manipulate the voice though this record. Initially I treated it as an instrument like any other, and then on other tracks the voice revealed itself as more of a feature. As for the contrast, well it makes musical sense to me to have rough with smooth for certain tunes. Not much of what I'm saying is something I've necessarily consciously thought about when writing music.. often it just comes out the way it does instinctively and through experimentation.
On songs like Blemishes itself, the very detailed texture of the music gives it an extremely intimate feeling, would you say the sound/texture of a song is as important to you as the melody/songwriting aspect?
Absolutely, I don't really see any hierarchy in the world of sounds, though sometimes the rhythm will take a turn to shine, or the melody, or the bass line. Even the silence and space or indeed lack of space can become a feature… One building brick is as important as another. This applies to the song and the sound world too. With the track 'Blemishes', Sam helped me to sculpt the sounds more as there was more space in which to do so. He honed the sounds to bring out the detail and texture with tonal colour.
Listeners (especially music journalists) tend to focus on the lyrics as containing the meaning of a song, but presumably the music is just as, or even more important in connecting with people, how much of your meaning is in the music, if that's a question you can answer!
Indeed, as I said before all elements are integral to the piece as a whole. The music itself carries a lot of the emotion for me… sometimes the sparser the lyrics, the more meaning a listener can draw from a piece. Basically, the answer is probably quite a lot!
More straightforwardly, does your music inspire your lyrics or vice versa?
This always changes… Sometimes something will come to me like in the song 'Blemishes', which presented itself as a stripped down bass riff, leading to the lyrics 'if you strip yourself down'.. Other times I will have something I intentionally want to write about, and the lyrical theme itself will inspire what comes musically.
In your work as a session player you have played lots of different kinds of music, does any one genre or type of music inspire you in particular?
So through sessioning I've had the opportunity to play a mixture of rock, pop, electronic, Latin, and African styles of course I've drawn inspiration.. I think it's pretty much impossible not to be influenced in some way or another by the sounds surrounding you. I am definitely inspired by the heavy sound I've heard and played in stuff like rumba, post-rock, soukous and maracatu.. I do like my music to have a lot of bottom end and heaviness in general, and this is something I've always been drawn to and have felt connected with.
A related question, do you think the kind of glitch/pop showcased on Blemishes will be the Kib Elektra sound, or do you see KE as a name for whatever musical inspiration you happen to be following as an artist?
I reckon the Kib Elektra sound will probably stay in this realm.. I do write in other styles and plan to complete a collection of kuduro tracks at some point. I think this would have to be under another alias for sure though as kuduro and glitch pop are very very different!
You have worked with lots of musicians and singers, who if anyone would you say you have learned the most from?
I think I've learned bits and pieces from everyone. Emilíana Torrini taught me tonnes about the voice through osmosis really – she's got lungs of steel! Midnight Davis taught me how to kick myself up the arse and get something finished as well as how  minimal a lyrical idea can be.. The list could go on and on..
How did Blemishes come to be the first release on the Bezirk label, did you have any previous history with Daryl Worthington & Tristan Bath?
Well Tristan somehow found my demos on soundcloud and tweeted the link.. The connection was made there and then – wehay for the internet!
How big a part do your surroundings play in your songwriting?
Massively. I write in my home studio, which is in my kitchen/living room. It's in a converted attic and has amazing treetop and garden views, I'm really lucky. There were some fantastic electric storms during the recording of the EP and I found it super special and energising recording with nature just there. I try to go out every day to my local fields, they are also pretty special and always seem to recharge and inspire me.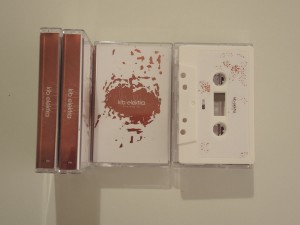 In theory the internet makes it much easier for artists to connect with the public, but it also makes it easier to give something a cursory listen and move on, do you find having an actual physical release makes it easier to connect with people than simply having songs online?
I must say it is novel for me to have a physical product – the internet is handy for sure and the EP probably wouldn't be out if it weren't for social networking. I do feel the attention span of people in general these days is shorter than when I was young, so yeah probably the physical product helps with this. A lot of people still like physical formats I believe. I like the fact it's a bit more effort to listen to a physical release. If the listener makes the effort to physically put the tape or CD into a machine to play it out loud, then to me it feels like that person is more inclined to actually actively listen to it. I don't really know if this is making the connection easier or more difficult… Perhaps it could be described as a deeper connection than with the digital.
Related to the last question; the idea of albums/single/EPs etc is almost an anachronism nowadays, do you think in terms of groups of songs rather than just songs?
I probably do group songs together… I seem to have spurts of writing tunes which would work together…It is still really early days to say what my normal pattern is though as I've only completed the whole process once!
A generic kind of question; who or what would you say are the biggest influences on your music?
I'd say probably at the moment nature and loss
Is it easy to find time for songwriting, or is it something you just do, whatever else is going on?
Yes writing is part of my weekly schedule. If it gets neglected I can go a bit doolally.
What does the rest of 2016 hold in store for you music-wise?
Mainly more writing, a few sessions here and there. There are plans to work on some vocals for electronica duo Neuschul as well. I'm potentially already in the process of writing another Kib Elektra EP at the moment as I've got a few tracks in progress..  this might progress into an album, depending on how the workflow goes. I'll see where it takes me!
Thanks for taking the time to answer my questions!
Thanks so much for having me and for the great questions – it's been a pleasure!
[soundcloud url="https://api.soundcloud.com/tracks/245856996″ params="auto_play=false&hide_related=false&show_comments=true&show_user=true&show_reposts=false&visual=true" width="100%" height="450″ iframe="true" /]