It's been ages since I've posted a playlist, so I thought I'd change the format slightly. Background: I write about music a lot for various publications, but as a music journalist I also receive hundreds of promo type emails every week and, when something looks interesting I download it and save the release in a folder marked with the month, to be properly checked out later (sometimes much later). So I thought 'going forward' (I hate that phrase, what did people used to say?) that at the end of each month I'd go over the items of interest and see if they really were interesting, and write a little bit about them.
Now is as good a time as any to start, but to get it rolling I thought I might as well do a look back over the summer, which I think I did years ago on my old website. Anyway, let's get on with it.
Going right back to the beginning of June, an album I really liked and have kept listening to is…
C Joynes & The Furlong Bray – The Borametz Tree
Thread Recordings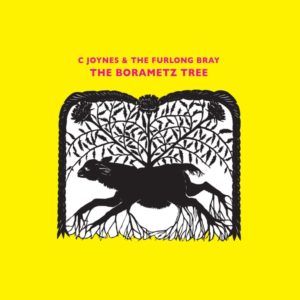 This vinyl-only release is the brainchild of acclaimed folk guitarist C Joynes, aided and abetted by a starry ensemble consisting of the Dead Rat Orchestra, plus fellow experimental guitarist/multi-instrumentalists Nick Jonah Davis and Cam Deas. The Borametz Tree takes its name from the fabled "Vegetable Lamb of Tartary", a tree supposed to produce sheep as its fruit (also the title of one of the album's best songs) and it's a suitably exotic and otherworldly collection of tunes. Otherworldly is perhaps misleading; in fact the multi-textured music here is very much of this earth, often many different corners of it at once. The album opens with the richly reverberating "Triennale" which sets the scene with its atmospheric, droning combination of elements from different western, eastern and African folk music traditions; but which all gel beautifully to make a familiar yet alien whole. It's incredibly elusive; the aforementioned "Vegetable Lamb…" begins sounding perhaps Scandinavian or even Scottish, but strangely could equally be Arabic; and this kind of melange characterises the whole album, somehow encompassing everything from bluegrass to the music of the steppes. Mysterious, wild and invigorating.
Also in June (actually 31st May)…
Cellista – Transfigurations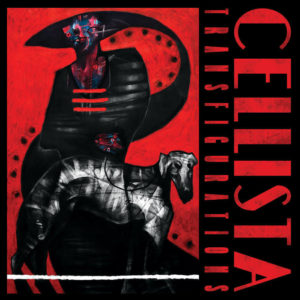 Transfigurations is interesting, an album distilled from a multifaceted performance art project, it's part experimental (but relatively orthodox) songs, albeit with the cello as the central instrument, part sound-collage, part social commentary, part spoken word performance. The album kicks off with 'Rupture 1' (the album is punctuated by five politically-charged Ruptures) featuring an excerpt from an old news report about the Black Panthers in the May Day protests of 1969, beginning a theme of civil unrest that runs through the whole album. At various times it reminded me of the mini-album Jarboe and Helen Money made together a few years ago; kind of an obvious comparison, but to me this was more satisfying. Although less indomitable than Jarboe's, Cellista's vocals are more melodic and the songs (or at least the handful of more conventional ones like 'Confessions' and standout, 'Look Homeward, Angel' featuring Dem One)  are straightforwardly affecting. The actual cello playing reminded me less of Helen Money than of the fantastic Julia Kent; atmospheric and (that word again) mysterious. The album is, deliberately, very timely (Cellista explained while promoting the work that "Transfigurations is a response to the world we inhabit. It is meant to allow us all, singularly and as a community, to see the ruptures that punctuate our place in the present"), but the framing of our time (specifically 2017 in fact) as a time when always-present tensions have risen to the surface reinforce the idea that the issues of our time are the issues of all time. It's a good album.
Elsewhere in June, I quite liked…
Wasuremono – Are You OK?
The Wilderness Records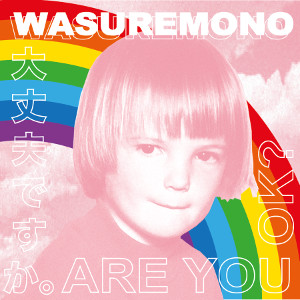 Quite liked it in small doses, at least. It's very nice and all, but taken as a whole its slightly twee and fragile retro, sometimes synth-pop indie style made me think of Philip Larkin on The Beatles; "like certain sweets, they seem wonderful until you are suddenly sick. Up till then it's nice, though." Philip Larkin, All What Jazz, Faber & Faber, 1970, p. 102
Speaking of retro (and what would pop culture in 2019 be without the ghosts of the 80s and 90s hanging over it?) I quite liked K. Michelle DuBois' "summer single" 'Waves Break' which sounds weirdly like Jan Hammer producing The Cure c. Japanese Whispers but with the Bangles doing the vocals. I seem to quite like K Michelle DuBois against my will; I checked out her album Harness last year, decided it sounded like the kind of music you get on Buffy style teen soaps, ie not my cup of tea, but then ended up listening to it quite a lot anyway. Not at all sure about this video though.
One of the problems with promos is they are sometimes sent out so far in advance, for understandable reasons, that you tend to listen to and then forget about them before the release date is even near. The example that led to this observation is the unpleasant but extremely powerful new album by Margaret Chardiet's industrial project, Pharmakon. The promo has been with me since June, the album itself (Devour) is out on August 30th via the reliably great Sacred Bones Records.  I'm not sure I'd say I 'like' Devour, but it's a hypnotically ugly record, paradoxically chaotic and controlled, emotional and yet kind of blank and icy. More tuneful than I had expected though; if you don't like the single 'Self-Regulating System' then you probably won't like any of it.
end of part one!