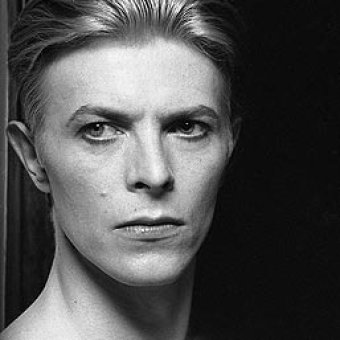 I was listening to David Bowie on the way to work today; I would have been doing that anyway. The fact that his death was reported on the news this morning did make the listening horribly poignant though. And even more, it made me notice just how unique and distinctive his talent was;
"They pulled in just behind the bridge
He lays her down, he frowns
'Gee my life's a funny thing, am I still too young?'
He kissed her then and there She took his ring, took his babies
It took him minutes, took her nowhere
Heaven knows, she'd have taken anything…"
The montage-like flow of imagery in Young Americans builds up an incredibly vivid, familiar-yet-dislocated image of America as seen from the UK; and it's poetry. Even better in fact, because Bowie was a singer and musician, it's poetry that's accessible and meaningful to people who don't even understand it as words. Like all of Bowie's best work it is, musically and lyrically ambiguous; it's British, it's American, it's kind of latin, it's pop, it's soul but because it's Bowie it's always a different, alien version of all those things.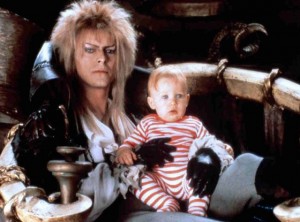 I've been listening to David Bowie for more than half of my life, but like most people of my generation, I've been very aware of him for much longer than that.
A lot of the tributes that have been made to him have – understandably – been by his peers, or those who experienced his music as something new, exciting and different. For those growing up in the 80s though, his music was at the time more or less mainstream pop with an odd singing voice (Let's Dance, the Bowie/Jagger atrocity etc) but he was always just there; in the charts, on TV, and maybe above all for my generation, starring in Labyrinth.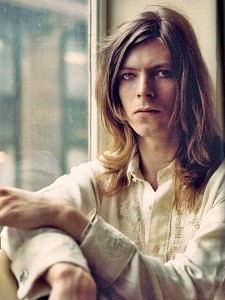 There were two (as I remember) more or less simultaneous but separate things that led me in my late teens to Bowie's music; a book about Lou Reed (I was already a big Velvet Underground fan) which led me onto Queen Bitch and therefore Hunky Dory (for a long time my favourite album) and seeing The Man Who Fell To Earth  on TV and therefore listening to Low, which was in my mother's record collection; and loving it.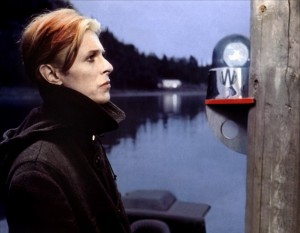 From then on, whatever ways my taste has changed, it has never needed to abandon Bowie; I liked glam and Bowie was  glam (both the light, frothy kind – The Prettiest Star – and the dark, sleazy kind – Diamond Dogs).  I was interested in 1930s German Expressionism and Bowie had recorded Berthold Brecht's Baal (one of his most underrated records actually). I was interested in Crowley and European culture and electronic music and he had recorded Station to Station. I liked soul and funk and he had made his own weird version of it. And so on, and on. He was interesting and interested in things and was able to turn his interests into his own art without losing either what made it interesting in the first place, or his own personality in the process. It's also true that although he was often accused of pretentiousness, that means that even his most 'difficult' work is never less than interesting; it was only on the odd occasions that he followed fashion instead of leading (or ignoring) it that he was boring.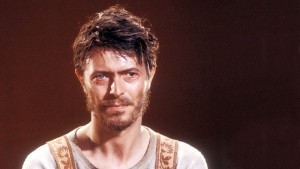 I don't love everything Bowie ever recorded, but there is no period of his career that doesn't have something great in it, and right up to the last few days of his life (not that I knew that's what it was) I always looked forward to hearing what he was going to come up with next; and there aren't many stars with 40+ year careers I can say that about.
RIP David Bowie
A personal Bowie playlist:
Please Mr Gravedigger (1967)
Janine (1969)
Memory of a Free Festival (1969)
Width of a Circle (1971)
All The Madmen (1971)
The Man Who Sold the World  (1971)
Changes (1971)
Oh! You Pretty Things (1971)
Eight Line Poem (1971)
Life On Mars? (1971)
Quicksand (1971)
Queen Bitch (1971)
The Bewlay Brothers (1971)
Five Years (1972)
Soul Love (1972)
Moonage Daydream (1972)
Lady Stardust (1972)
Star (1972)
Ziggy Stardust (1972)
Rock 'n' Roll Suicide (1972)
My Death (live) (1972)
Velvet Goldmine (1972)
Watch That Man (1973)
Drive In Saturday (1973)
Panic In Detroit (1973)
Cracked Actor (1973)
Time (1973)
Lady Grinning Soul (1973)
Sorrow (1973)
Port of Amsterdam (1973)
Sweet Thing /Candidate/Sweet Thing (Reprise) (1974)
Rock 'n' Roll With Me (1974)
We Are The Dead (1974)
Big Brother (1974)
All The Young Dudes (live) (1974)
Young Americans (1975)
Win   (1975)
Fascination  (1975)
Somebody Up There Likes Me  (1975)
Can You Hear Me  (1975)
Who Can I Be Now?  (1975)
It's Gonna Be Me  (1975)
Station To Station    (1976)
Word On A Wing (1976)
Stay (1976)
Wild Is The Wind (1976)
Speed of Life (1977)
Breaking Glass (1977)
Sound and Vision (1977)
Be My Wife (1977)
Warszawa (1977)
Art Decade (1977)
Weeping Wall (1977)
Some Are (1977)
All Saints (1977)
"Heroes" (1977)
Sons of the Silent Age (1977)
V-2 Schneider (1977)
Sense of Doubt (1977)
Moss Garden (1977)
Neukoln (1977)
Fantastic Voyage (1979)
African Night Flight (1979)
Move On (1979)
Yassassin (1979)
DJ (1979)
Repetition (1979)
It's No Game (Pt 1)  (1980)
Baal's Hymn (1982)
Remembering Marie A (1982)
Ballad of the Adventurers (1982)
The Drowned Girl (1982)
The Dirty Song (1982)
Alabama Song (1980)
Modern Love (1983)
Cat People (Putting Out Fire) (1982)
This Is Not America  (1985)
When the Wind Blows (1986)
Amazing (1989)
Goodbye Mr Ed (1991)
The Wedding (1993)
Pallas Athena (1993)
Looking For Lester (1993)
I Know It's Gonna Happen Someday (1993)
Buddha of Suburbia (1993)
South Horizon (1993)
The Mysteries (1993)
Untitled No 1 (1993)
Ian Fish, UK Heir (1993)
Heart's Filthy Lesson (1995)
The Motel (1995)
I Have Not Been To Oxford Town (1995)
—– nothing against the next few albums but haven't heard them enough to have favourites —-
The Next Day (2013)
Dirty Boys (2013)
The Stars (Are Out Tonight) (2013)
and hopefully when I hear Blackstar some more songs will make it onto the list