Thursday, June 11th, 1936. Ominous context; the previous week, Mussolini had authorised his troops to kill prisoners taken in the war that followed Italy's invasion of Ethiopia. Shortly thereafter, Haile Selassie, Emperor in exile, would appeal to the League of Nations against the Fascists, but of the 57 member states, only a handful imposed sanctions against Italy, one of those being the Republic of Spain, which, within a month would itself be shattered by civil war. Earlier that spring, Hitler had goose-stepped his troops into the Rhineland in contravention of the Treaty of Versailles; in London itself the alarm caused by the organised marches of Oswald Moseley's British Union of Fascists, would, by the end of the year, result in the Public Order Act, banning the wearing of political uniforms in any public place. On that Thursday though*, in Trafalgar Square on a hot, clammy morning (June 1936 was notable for unsettled and unseasonal weather) a young woman with a head apparently made of flowers stood among the pigeons; a dreamlike, haunting, alarming and perhaps ridiculous figure; for dreamlike, haunting, alarming but definitely ridiculous** times. Underneath the flowers and wedding dress was a human being, artist and poet Sheila Legge, but on that day, in combination with that costume and a few accessories (a raw pork chop and/or just a prosthetic leg, depending which account you believe) she was the surrealist phantom*** and drew crowds to the opening of the International Surrealist Exhibition at the New Burlington Galleries.
* sadly, also the day that Robert E. Howard, creator of Conan the Barbarian committed suicide
**For the next few years, while the tension in UK and Europe inexorably rose, there was also a more than normal amount of paranormal activity, with both the International Institute for Psychical Research and its rival the Society for Psychical Research logging record numbers of hauntings and reports of poltergeist activity. Also, it's worth remembering that in the 30s, Hitler had a 'Charlie Chaplin moustache', rather than the other way around
***  or rather, a surrealist phantom; also present, though not exhibiting in the show, was Claude Cahun, one of the most enigmatic figures of 20th century art, apparently taking photographs, one of which is presumably the image of Sheila Legge used above
The incongruity of the flower-headed apparition was an embodiment of the intention of the surrealists as initially laid out by André Breton (master of ceremonies at the opening of the London exhibition) in 1924:
"I believe in the future resolution of these two states, dream and reality, which are seemingly so contradictory, into a kind of absolute reality, a surreality."

Manifesto of Surrealism (1924), translated by Richard Seaver & Helen R Lane in Manifestoes of Surrealism (Ann Arbor paperbacks, 972, p.14)
For all of its apparent frivolity too, the flower-headed phantom was calculated to provoke a reaction beyond being simply an advertisement for an exhibition; its irrational beauty, Arcimboldo-meets-Dalí,  was manifestation as manifesto, remembering Breton's railing against
"the hate of the marvellous which rages in certain men, this absurdity beneath which they try to bury it. Let us not mince words: the marvellous is always beautiful, anything marvellous is beautiful, in fact only the marvellous is beautiful"(ibid.)

 
The exhibition offered the public many different kinds of marvellous; there were over 400 exhibits; paintings, sculptures, 'surrealist objects' as well as an array of 'ethnographic' items from diverse cultures around the world and 'natural objects interpreted'. Around 60 artists were represented, including most of the 'big names' of European surrealism alongside a range of home grown British artists. It showed, too, that surrealism was always a broader church than its critics tended to give it credit for; less a style or set of styles (many of the artists represented were not necessarily surrealists per se) than a way of seeing, or a way of being, embodied in artworks as diverse as Giorgio de Chirico's ominous dreamscapes, Hans/Jean Arp's evocative wood reliefs, Constantin Brâncuși's Vorticist-influenced sculptures and a generous selection of Picassos, from cubist masterpieces to his latest works, alongside iconic surrealist paintings by the group's most prominent members and associates, including Dali, Max Ernst, Magritte, Miro and Klee.
The exhibition also included works by eleven female artists*; not a huge amount percentage-wise, but an extremely  significant proportion by the standards of the time; and among that ten were some of the most important artists of the era.
* Eileen Agar, Jacqueline B., Leonor Fini, Dora Maar, Maruja Mallo, Meret Oppenheim, Grace Pailthorpe (hailed by Breton as 'the best and most truly surrealist' of British artists), Toyen,  Sophie Taueber-Arp, Margaret Nash, Gala Dali, Sheila Legge
 The exhibition was hugely successful, with over 25, 000 visitors attending during its month-long run, and it fulfilled what surrealism could be, both to its adherents and to its critics; it was profound, it was disturbing; it was also at times very silly.  Notoriously, Dalí gave an inaudible speech while wearing a deep sea diving suit from which he had to be rescued, while Breton and Paul Éluard delivered more comprehensible lectures, volume-wise at least. In the original manifesto, Breton had written, "We really live by our fantasies when we give free rein to them" but that was in 1924; if surrealism had started out in part as an offshoot of Dada, a reaction to the horrors of World War One and the rationalist values of the 19th century that had led to it, the atmosphere of the 30s was (and was felt at the time to be) distinctively pre-war.
The Surrealist group of 1936 (that is, the main group among the many surrealist groups of 1936, as Breton's regular fallings out with those close to him led to a series of splinter groups) was, explicitly, a political organisation. Some key original members, such as the 'prophet of surrealism' himself, Robert Desnos (of whom Breton said "Desnos speaks Surrealist at will") were opposed to the aligning of the group with a left-wing political cause, but Desnos' fate – arrested by the Gestapo, sent to Auschwitz, then Buchenwald before finally dying in Terezin concentration camp of typhoid in 1945 – showed that, for those without the financial means of Breton and Dalí, politics was not something one could easily avoid. But more than that, the nature of surrealism itself was incompatible with the totalitarianism that was marching across Europe:
"Among all the many misfortunes to which we are heir, it is only fair to admit that we are allowed the greatest degree of freedom of thought. It is up to us not to misuse it. To reduce the imagination to a state of slavery…is to betray all sense of absolute justice within oneself. Imagination alone offers me some intimation of what can be…" Manifesto of Surrealism (1924) p.4-5.
Dalí – perhaps not surprisingly, given his aristocratic background – was less comfortable than Breton with the politics of the far left, but although often portrayed as a simple narcissist (wrong; he was not simple), he was very aware of the psychology underlying the ideological dogmatising(?) of Europe, arguing in 1935 that the moral hunger left by the weakening of state religion had led a people "systematically cretinized by machinism" and "ideological disorder" towards Hitler and his vision of the Third Reich. (actually what he said is far more Dalí-esque and funny; Hitler's followers…
"seek in vain to bite into the senile and triumphant softness of the plump, atavistic, tender, militaristic, and territorial back of any Hitlerian nursemaid. [This]irrational hunger…is placed before a cultural dining table on which are found only . . . cold and insubstantial leftovers." The Conquest of the Irrational, 1935)
As we have seen, Britain in 1936 was far from immune from 'ideological disorder' – but despite the fact that the British Union of Fascists was entrenched enough in society to be running an annual summer camp at Bognor Regis, the ideology was not all on the right. Breton, although vehemently Marxist, was not entirely comfortable with the polarising climate of the era, as his speech, The Political Position of Today's Art given to the "Leftist Front" in Prague the year before the International Exhibition makes clear:
"These banners that have suddenly begun to flap over Europe, setting a common or social front, a single front or a red front over against a national front, the last battle formation of capitalism, are of a sort to imbue me more and more deeply with the idea that we live in an era in which man belongs to himself less than ever… [The Surrealists] find themselves in the face of a dilemma: either they must give up interpreting and expressing the world in the ways in which each of them finds the secret of within himself and himself alone – it is his very chance of enduring that is at stake – or they must give up collaborating on the practical plan of action for changing the world" April 1, 1935  Manifestoes of Surrealism, p.213
The same year however, perhaps more comfortable on his home turf in Paris, speaking to the Congress of Writers, Breton made it clear that he intended to have his cake and eat it;
"Transform the world," Marx said; "change life," Rimbaud said. These two watchwords are one for us."
Considered leftist radicals by the right and as decadently bourgeois by the left, Surrealism was caught between two ideologies that both managed to miss the entire point of the movement. This was not a centrist organisation; it was radical, egalitarian and concerned above all with freedom, especially freedom of thought. Breton had written, "Our brains are dulled by the incurable mania of wanting to make the unknown known, classifiable." (Manifesto of Surrealism p.9), but it was this ambiguity that troubled most of the opponents of Surrealism. The iconic Belgian surrealist René Magritte, who was represented by no less than 14 works in the exhibition,  shared Breton's sentiments;
"People who grasp for symbolic meanings fail to grasp the inherent poetry and mystery of the image. No doubt they sense this mystery, but they wish to get rid of it. They are afraid. By asking 'what does this mean?' they express a wish that everything be understandable. But if one does not reject the mystery, one has quite a different response.  One asks other things." (Magritte, Suzi Gablik, Thames & Hudson 1970, p.11)
In fact, for all his aristocratic bearing (a quirk of personality rather than a representation of his actual background), Breton, with his touchstones of Marx, Freud and Rimbaud, was less elitist than the pro-Stalin communist intelligentsia of the British art world could be. The main criticism of upper class critics like Anthony Blunt (who, significantly, was covertly working as a spy for Stalin's USSR at the time) was that Surrealism had no clear message and would therefore be difficult for the proletariat to understand, championing instead 'Socialist Realism' as the preferred avant garde art movement of the Communist Party.
This basic idea – 'ordinary people won't understand it' – despite ignoring Breton & Magritte's deliberate ambivalence towards 'understanding' – was still at the heart of critical attitudes to Surrealism as recently as Charles Harrison's excellent English art and Modernism 1900-1939 (Yale University Press 1981). The division between the Surrealists (I really should decide when that word should and shouldn't be capitalised) and the communist Artists' International Association (AIA) is characterised by Harrison (p. 314-5) by the idea that the surrealists were reluctant to let go of the uniqueness of the artist and the artist's vision; an idea which presupposes that the 'proletariat' is a kind of homogeneous mob which doesn't share the individual uniqueness of artists. Breton, who was ultimately concerned with that uniqueness, never seems to have subscribed to the idea of the working classes as an unthinking and simple-minded mass. Indeed, his lifelong aim was to make an artist or poet of everyone.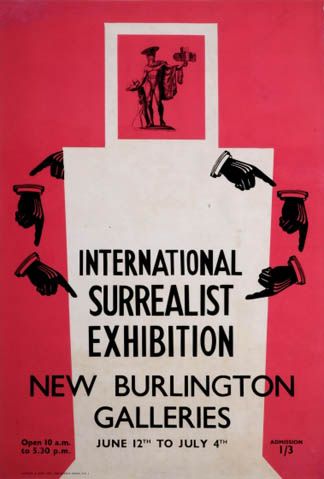 But the idea of Surrealism as part controversialist nonsense, part artistic elitism persisted. Even Herbert Read – one of the pre-eminent art critics of the period, modernist, Marxist – despite being involved in the staging of the exhibition itself – tended to evaluate surrealism negatively in the revolutionary scheme of things, compared to pure abstraction, saying :
[Surrealism is]"a negative art… a destructive art; it follows that it has only a temporary role" whereas abstract art "has a positive function. It keeps inviolate, until such time as society will once more be ready to make use of them, the universal qualities of art" Five On Revolutionary Art  (1935, Artists' International Association)
But in fact, Dalí in his 1929 Declaration had already pre-empted this criticism; "Surrealism is destructive, but it destroys only what it considers to be shackles limiting our vision" and arguably the idea of a rarefied 'pure art' which is somehow divisible from human nature and human experience is one of those shackles.
Despite the negativity of parts of the leftist establishment, Breton was keen to stress in his Prague address that fascism was the enemy of all progressive art;
"Hitler and his acolytes are, unfortunately, very well aware that it was necessary not only to persecute Marxists, but to forbid all avant-garde art in order to stifle leftist thought even for a short time" Manifestoes of Surrealism, p.233
Ironically, despite the controversy surrounding Surrealism there was very little opposition to the London exhibition from the 'establishment' as such, aside from the seizure of some works by the Danish artist  Wilhelm Freddie on pornography charges. And although the AIA were not especially supportive of surrealism in general (as Harrison points out, "many of the aspirations of the AIA members were kept alive by a roseate vision of the conditions of art – and life – in Stalinist Russia" English Art and Modernism,  p.313), the differences between factions could be put aside when occasion demanded it; in November 1936 the Surrealists and the AIA together challenged the government's position on the Spanish civil war in their Declaration on Spain by siding against the fascists. The two groups joined forces again in 1938 to exhibit Picasso's Guernica in protest at events in Spain, significantly showing the painting not just in the New Burlington Galleries, but also in the Whitechapel Gallery in the heart of the working class East End.  (Matthew Gale, Dada and Surrealism, Phaidon 1997, p.346-9)
Although largely male-dominated, the fact that the Surrealist group's aims were to create a revolution in mind/spirit before, or simultaneous with, a social revolution meant that whereas for groups like the Communist Party, equality of the sexes was something to think about after the revolution had been won (an attitude christened 'brocialism' by Sarah Ditum in an excellent recent article for The New European  – issue #97, May 31 2018, p.19-21) ideas of gender and sex at both a conscious and subconscious level were central to the group's work. Although this inevitably meant much objectification and a preoccupation with woman-as-muse, Breton's championing of female artists was rarely paternalistic, even if it was as otherworldly as all of his writing;
"The cry for freedom received an absolutely noble and authentic answer in the work of Toyen, work as luminous as her own heart yet streaked through by dark forebodings." Surrealism and Painting, translated by Simon Watson Taylor, MacDonald & Co, 1972, p.210
The Czech artist Toyen (born Marie Čermínová) was represented in the London exhibition by two oil paintings and was definitive of the kind of artist drawn to the surrealist cause. Politically an anti-Stalinist communist, her work defies easy analysis, as did Toyen herself. Sometimes characterised by those who knew her as transgender, sometimes as an androgynous lesbian, sometimes as an almost femme-fatale-like heterosexual temptress (she could, pretentiously no doubt, be labelled sur-gender) her name, seemingly chosen for its non-gender specific quality – and the few photographs of her that exist, tend to encourage the mythologising of her rather than clarifying her true nature; and that is surely the point; had she wanted to be easily pigeonholed, she could have left something unambiguous behind.
Browsing the catalogue of the Surrealist Exhibition of 1936, with its mixture of high art (oil paintings, sculpture), photographs, found objects and disconcerting titles is to look into the troubled heart and dreams of a profoundly troubled time. The general perception of surrealism may be of something self consciously 'weird' but even that shows that If surrealism is anything, it is profoundly human. The fact that the work of an artist as idiosyncratic as Toyen could be seen by 25,000 people in London at a time when totalitarianism closed down independent thought across Europe and beyond, demonstrates that, despite the disapproval of the champions of socialist realism, surrealism was as revolutionary – and as successful – an art movement as there has been. After all, if a revolution doesn't allow people to express their essential person-hood then why bother to fight fascism at all?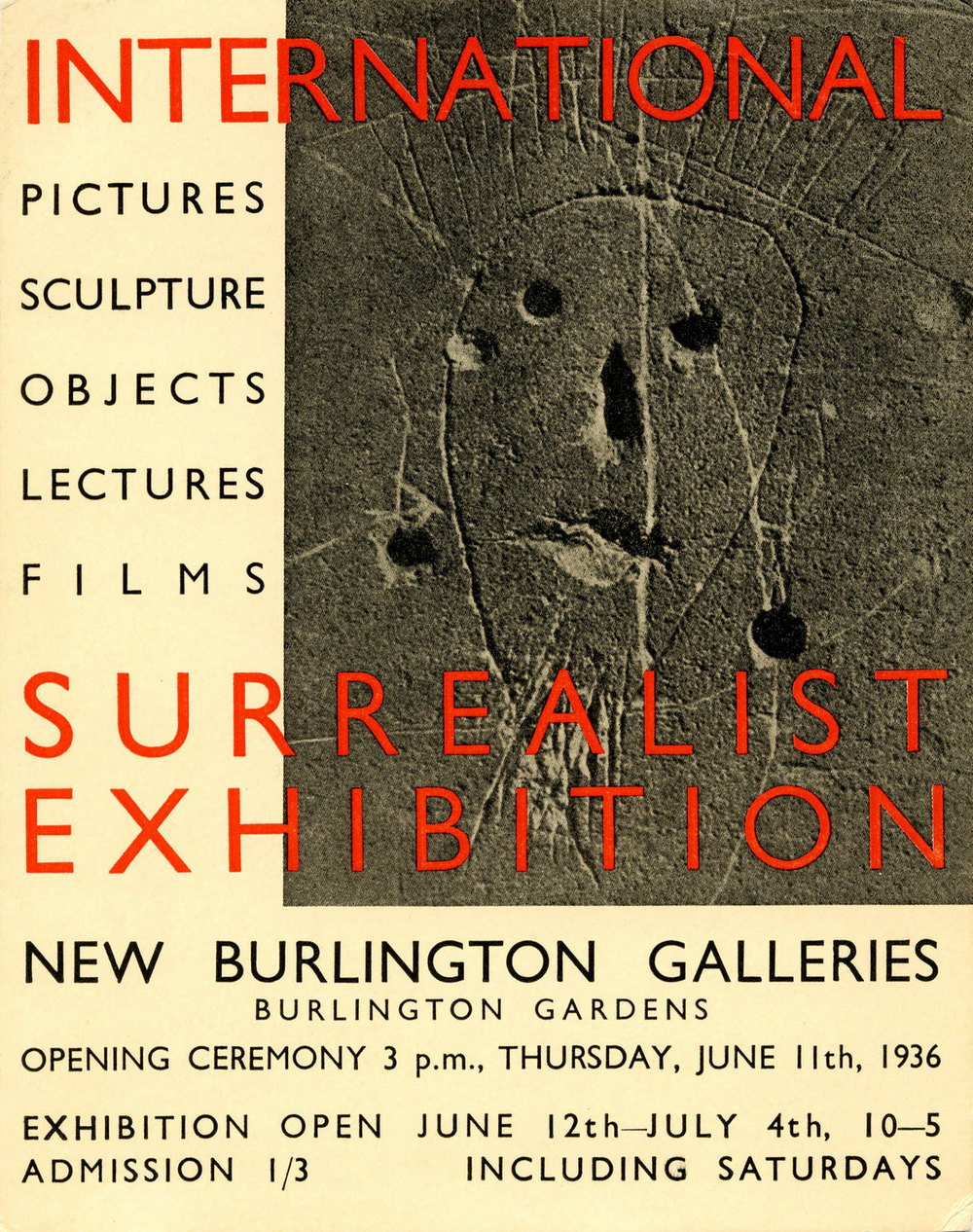 These are things I read before writing this:
Karla Tonine Huebner – Eroticism, Identity and Cultural Context: Toyen and the Prague Avant-Garde (2008). I can't recommend this highly enough, incredibly enlightening and fascinating and you can read it all here
Andre Breton – Manifestoes of Surrealism (translated by Richard Seaver & Helen R Lane, Ann Arbor paperbacks, 1972) Essential surrealist reading and fun, a lot of the time. I can never decide how much I like Breton, but when he's good, he's good
Matthew Gale – Dada and Surrealism (Phaidon, 1997) I think the best short overview of the two schools and their connections that I've read; he covers a lot of ground
Sarane Alexandrian – Surrealist Art (Thames & Hudson, 1970) A very personal look at the main surrealist movement by someone who was there for a lot of it. Alexandrian thinks quite deeply, but at the same time is absolutely Breton's man, so some of the most interesting surrealists outside of the orbit of Paris don't get much space
Jennifer Mundy (ed.) – Surrealism – Desire Unbound (Tate Publishing, 2001) One of the absolute best books on surrealism I've read; fantastic essays, brilliantly illustrated.
Arthur Cravan, Jacques Rigaut, Julien Torma, Hacques Vaché – 4 Dada Suicides (trans. Terry Hale, Paul Lenti, Iain White, Atlas Anti-Classics, 2005) Has very little to do with the actual article above but it's such an amazing book & does give some authentic background to the earliest days of surrealism
all of the pictures in this article (apart from the photo of Sheila Legge) were shown in the exhibition – as far as I can tell; the names of  works in the catalogue aren't always very reliable