Preamble to the Preamble…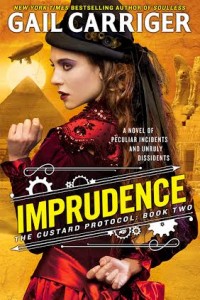 Following the success of steampunk icon Gail Carriger's recent novella, Poison or Protect the new novel in her Custard Protocol series, Imprudence is out now and Gail was kind enough to answer some questions for me. If you are already a fan, you may wish to skip all the waffle and go straight to the Q&A below. If you want to know why I wanted to interview her in the first place, read on.
The preamble proper; whys & wherefores…
Up until the 1990s, I would always have said I liked vampires, werewolves and ghost stories. But although my love of horror, science fiction and fantasy has never diminished, the post-Anne Rice* world, with its endless teen soap opera-style angst-ridden 'nice' vampires and increasingly formulaic genre conventions left me cold and I tended more and more to re-read favourite authors from the past (or, in the case of HP Lovecraft, read the works of his associates) rather than pick up anything new. That was until I first read Gail Carriger's debut novel Soulless a few years ago. Sadly, I don't remember where I first heard about it (online, I assume), but from a quick read of the first few pages, I was hooked, and welcomed vampires, werewolves and ghosts back into my life.
*No slight  whatsoever intended towards Anne Rice herself, or her excellent novels; as well as an incredible storyteller, she revolutionised the horror genre at a time when all of its other revolutions seemed to be towards a more one-dimensional, graphically violent approach. Not that I mind that in itself.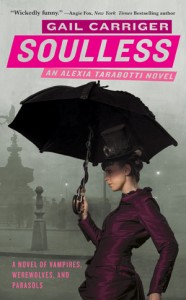 Soulless wasn't Dawson's Creek with vampires; the supernatural characters were, as with most modern/post-modern fiction, given a similar complexity to their human counterparts, but Carriger goes further, weaving the supernatural/natural worlds together in an ingenious yet extremely logical and historically-informed way. Part of what makes this so successful is that she placed her characters in a parallel version of the Victorian era, creating a society where vampires and werewolves, without sacrificing their predatory nature, exist alongside their mortal contemporaries as yet more finely nuanced layers in the already-complicated social hierarchy of Victorian Britain. If the Victorian era represents the height of the British preoccupation with social class and proper manners, these become even more crucial in Carriger's world, where the correct way to interact with social superiors/inferiors includes people, possibly on both sides, whose politeness is the only thing preventing them from drinking your blood/eating you.
The author's masterstroke (Or 'mistressstroke'? Should be right but has inappropriate connotations and too many 's's, so masterstroke it is) was placing into this brilliantly realised world, one of her greatest creations to date, Alexia Tarabotti; intelligent, wilful, tough, of fairly-good-but-slightly-shaky social standing (aristocratic, but a spinster, and more interested in science than fashion) and born without a soul, the contrast between Alexia's dramatic, fantastical and romantic adventures and her own prosaic, practical-yet-impulsive nature makes Soulless (and its sequels) as lightheartedly funny as they are action-packed and dark.
With The Parasol Protectorate series and the 'young adult' Finishing School series complete and her latest series The Custard Protocol well underway (volume two, Imprudence is published this summer, on July 19th) as well as a stream of short stories and novellas, Gail is intimidatingly busy (not to say prolific), but nevertheless gave up some of her valuable time to answer a few questions.
Far more information can be found on her excellent website, and she is also especially fun to follow/engage with on Facebook and Twitter. But enough ado…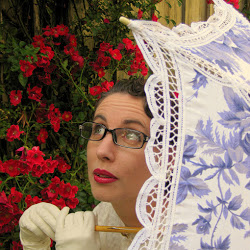 lovely portrait of Gail by Vanessa Applegate
 The Interview…
With your website, blog and personal appearances, your fans have quite a lot of access to various facets of your personality, but to what extent is the public Gail Carriger something you create versus (or as well as) being 'the real you', if that's a question you can answer?
 There's not a lot of difference between the two, it's more a matter of what I focus on talking about publicly. Because I am so open and all over the internet, I tend to keep my relationships, close friendships, and family out of it. After all, they didn't ask for that kind of exposure. I don't talk about politics, and I rarely talk about the nitty-gritty of writing or offer writing advice, there are others out there who do this more eloquently than I ever could. I also don't talk much about the mundane of everyday life: my policy is that if I don't want to read about it, why would anyone else?
 As the last question suggests, your fiction is part of a wider world/lifestyle that your readers get involved into varying degrees, but do you have interests that you wouldn't consider incorporating into your fiction?
I don't think so. It would be hard to keep the things I love out of my writing for all time. There are things that haven't come up yet, but I wouldn't rule them out.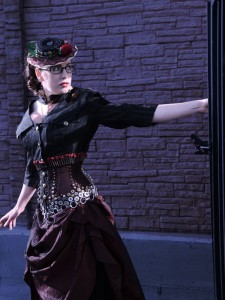 Gail in Steampunk regalia, by J. Daniel Sawyer

You (fairly) recently announced you will be self-publishing alongside publishing the usual way, should fans expect a big (or any) difference between the two?
Well my self published stuff will be confined to novellas and short stories under 40000 words. So that's a big difference. I suppose it might feel a little more unfettered. I'm not limiting myself to anything typical about any genre that I've worked in before. I figure all bets are off. I'm taking on anything I feel like from full on romance, to light BDSM, to LBGT relationships front and center, to class relations, to darker themes with less comedy. It's still all me though, that oddball bend toward silliness that people expect will likely never go away.
Victorian writers like Dickens and Trollope often wrote their novels in monthly installments, which seems a very high-pressure way of writing but lends itself to a great deal of detail and fast-moving action, does that kind of writing have any appeal for you?
 Yes, but I don't think I could do it given my current travel schedule and traditional publishing commitments. I always fancied writing Alessandro as a serial. Another big problem is all the contract workers. That kind of process needs a dedicated available team of developmental editors, and copy editors, and proofers, and formaters. Not to mention a killer outline for all the installments up front. (Because you can't go back and fix and error at the beginning if already published.)
A related question, writers in the Victorian era often became associated with particular illustrators (like Dickens and 'Phiz') but at some point the idea of illustrations in grown up (I would say 'adult', but the connotations!) fiction went out of fashion, do you think the cover artists for your books have shaped readers' ideas of your characters in the same way that those Victorian illustrators did for the writers of that era?
 Perhaps a little. Cover art is important, but more to encourage people to pick up the book than to give them a visual clue into the author's imagination. Most of the time we aren't even consulted, so it's entirely marketing. (Not true for me, luckily.) I doubt that cover art has as much impact on imagination as illustrations did.
In some ways the 'virtualisation' (ugly made up word!) of books/growth of digital formats (and online retailers) means that fewer readers pay the full cover price for a book, but conversely means that some people will pay more for small/special editions (like the Subterranean edition of Soulless that I still need to buy). As someone who grew up in the papery book era (I'm a couple of years older than you and assuming – perhaps wrongly – that you were not a technologically precocious child who only read books via a Commodore 64 from floppy discs) what are your thoughts on all this for the present and future of literature – good, bad, or just different?
I'm one for different. I like the changes going on right now. And I am lucky enough to have options because people want to read my stuff. A whole cornucopia is open to me which, twenty years ago, wouldn't have been possible. I can write novels for my publishing house, write short works with side characters and self publish those, and I can arrange side deals with boutique publishers, like Subterranean, for high end limited editions. I don't like it when my work is pirated or stolen, but every new technology has a price of admission and there is not going back now.
Your books have so far mostly been in series', but at what point in the writing/planning process do you know that a novel will be part of a larger structure?

Depends on the novel. I didn't know Soulless would be a series until contract negotiations and I didn't know how long that series until half way through the third book. I'm not sure how long the Custard Protocol will be but I'm writing it as couplets so each two stand alone but also tie in to the others (likely 4 or 6 total). The Finishing School, on the other hand, was always going to be four books, and I had the arc planned from the beginning.
All the novellas are entirely stand alone, although they seed to each other and my full length works, because I can't help dropping cookies and scattering favorite characters through everything I write. Depending on how well they sell (read: worth my time to produce) the novellas are loosely gathered into three collections all of them steampunk comedies of manners.
The Delightfully Deadly novellas are espionage romances spun off my Finishing School series, and could go up to 7 stories. Poison or Protect is already written and in production, and the other 6 just in note form. I'm using my Supernatural Society novellas to tell LBGT romances. I have 2 planned, one written, and some possible shorts. And the Claw & Courtship novellas all feature werewolves. I have 2 mapped out with a possible third and a short story. Basically, I'm using the novellas to write whatever I want when I feel like writing it, so I am leaving my options wide open.
 
Your novels would (or, thinking about novel-to-movie adaptations could) make good movies, would that be something you would welcome?

I think it would be very exciting, but I'm also realistic about the chances that anything would ever happen. The Parasol Protectorate books have been optioned for television, but that is all so far.
 What are you most excited about right now?
 Going hybrid and bring out the first novella, editing the second one, and writing the third. I'm super absorbed by cover art, fonts, and everything that goes along with the packaging of a book. I've never done it before and it's really fascinating. Difficult,but fascinating.
 Do you have any plans to come to the UK in the foreseeable future?
 Nope. Like a vampire I only go where invited and I haven't been asked in a while. I'd love to come back, I always enjoy visiting but I usually need some kind of event to draw me over. If I could afford it, I'd come every few years, I miss it there.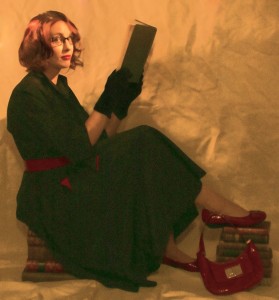 another great Vanessa Applegate photograph
Need more Carriger in your life? There's a wealth of excellent information on all things Gail on her wiki and her fun vintage fashion (and related stuff) blog is here