This is not all about black metal, or all about music even, but it essentially began with the De Mysteriis Dom Sathanas Alive album that Mayhem, the pioneers of Norwegian black metal, released towards the end of last year.
PART 1: MUSIC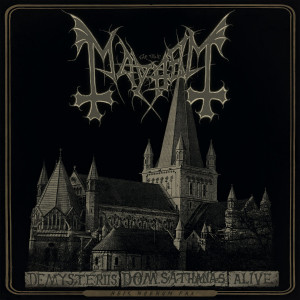 Despite somewhat lukewarm expectations, De Mysteriis Dom Sathanas Alive is a very good album and therefore highly recommended to Mayhem fans, especially those who value the band's early/90s output above their subsequent work.  Like the Velvet Underground's Live MCMCXIII album (released, coincidentally, while the Norwegian black metal scene was at its most intense and chaotic), it seemed beforehand like there was too much water under the bridge, not just within the band itself, but in music, in the world even, for any of the very particular magic the band had created at its peak to have survived. Arguably this was even more so in the case of Mayhem, because the 1994 De Mysteriis Dom Sathanas album, iconic though it is, is to many people (though I am not one of them) itself only a shadowy version of what it should have been, had the band's classic lineup survived. In that sense (and only really in that sense), De Mysteriis… is strangely like The Beach Boys' Smiley Smile (1967), a very peculiar and almost entirely inappropriate comparison that I'll make again later.
So; a good album, and very likely a great show if you were lucky enough to be there; the band is powerful and the music is atmospheric, as it should be. Attila Csihar (vocals) gives a typically eccentric but (for that reason) typically great performance; Necrobutcher (bass) and Hellhammer (drums) bring the irreplaceable aura of authenticity to the proceedings, while also generally playing very well. But for all that Teloch and Ghul are, by any method that exists for quantifying such things, far "better" guitarists than original Mayhem guitarist/founder/composer Øystein 'Euronymous' Aarseth was (and in fact both of them are fantastic throughout), the guitar solo on 'Freezing Moon' (the yardstick by which I measure all performances of the song) isn't right. So there's that. The band is not alone in this; many, many great artists have recorded good or even excellent versions of the song, and none of them (that I've heard at least) have got it right; not least Mayhem themselves. Rune 'Blasphemer' Eriksen was and is also an infinitely superior guitar player to Euronymous in most respects, but the versions of 'Freezing Moon' on the Blasphemer-era live albums Mediolanum Capta Est (1999), Live in Marseilles (2001), European Legions (2001) etc, etc are far less good than the live versions of songs from the band's then-recent albums.
All that said, Euronymous himself didn't always play the solo right either (actually, the version on De Mysteriis Dom Sathanas itself is 'good enough' – in that sense, the new live album does do it justice); but in the definitive versions of the song (the best probably being the one on the 'official bootleg' Live In Leipzig (1990) – there's some slightly obsessive stuff about the 1990s live recordings here) it's a thing of spectral, affecting majesty; quite at odds with the prevailing tone of frozen emotionless-ness that black metal is popularly supposed to embody. Indeed, it's one of the central paradoxes of the genre that, for all its focus on the cold and dead, it's a kind of music that is all about extreme emotion and feeling. More than most music in fact, black metal stands or falls on feeling; that hardest of musical elements to define or indeed to create deliberately. Dressing in black leather and spikes and painting your face is one thing, but you don't scream and cut yourself like Mayhem's Dead (Per Yngve Ohlin) or Maniac (Sven Erik Kristiansen) because you don't care about anything. You hopefully don't do it because it's cool either; and when Dead was doing it c.1988-90, it really wasn't cool. So anyway; on the new live album, the all-important solo isn't right, not because the right notes aren't played in the right order, but because – although it certainly sounds like the band are playing with passion and intensity – it doesn't feel right. Still, De Mysteriis Dom Sathanas Alive is a very good album. But is it as good as Live In Leipzig? Unless you value listenability and high quality sound above all else – which is in itself fair enough and certainly easier on the ears – the answer has to be no. Still, it's an album very worth having if, like me, your favourite Mayhem songs (mine is 'Life Eternal') were never in the band's live set while Dead was alive (ah, the fun of writing about someone called Dead).
So anyway, that solo; it's good, so why isn't it right? On the face of it, this could be one of those cases where sterile perfection* loses out to inspiration and/or passion but I don't think it is. In any case, the technical perfection vs passion/originality argument is one I don't really believe in. It gets used a lot when talking about people covering Jimi Hendrix songs, or when people are being insulting about Yngwie Malmsteen, so let's call it the Malmsteen/Hendrix correlation.
*for all his precision when on form, Euronymous himself was mostly not notable for sterile perfection; for example it sounds awfully like he plays the all-important solo in the wrong key on the notorious but mostly brilliant Dawn of the Black Hearts bootleg
Straight away, any comparison of this type shows that the criteria involved are completely useless for analysing music (or indeed any art form short of architecture, where a lack of technical skill would have disastrous results). Here's a syllogism of sorts: Yngwie Malmsteen can play Hendrix's solos but Jimi Hendrix probably couldn't have played Yngwie Malmateen's – so therefore Yngwie is a better guitarist, right? Well, obviously (at least I think it's obvious), no.
On the face of it that might seem to mean that technical skill is not the most important factor in being a great guitar player, which is true – but is not the whole truth. Yngwie may not be better than Hendrix, whatever that would mean, but nevertheless he is a great guitar player, and he would not be a better one if he played more like Jimi Hendrix, or for that matter, if he played more like an arch passion-over-precision player like Steve Jones from the Sex Pistols, James Williamson of The Stooges or Johnny Thunders. Moreover, Yngwie's music at its best is entirely passionate and feeling-ful, while also being extremely technical. Like the classic virtuosi through the ages, Yngwie happens to express himself best through the medium of extreme technical ability. As did Jimi Hendrix of course, in a less neat and streamlined/traditional kind of way. But at the same time, to say that Malmsteen or Hendrix would have been better in the New York Dolls than Johnny Thunders, or have been better in the Ramones than Johnny Ramone is also very obviously untrue. This is a very long way around just to say artists are at their best while being themselves, but that is probably one of the logical conclusions, if there are any; Euronymous was great at being Euronymous, while Teloch & Ghul are probably best at being Teloch & Ghul. If they were great at being Euronymous then they would be better off being in a Mayhem tribute band than being in Mayhem.
To bring back the Beach Boys again, since I said I would, one of the closest parallels for the kind of nonsense I have been writing about De Mysteriis Dom Sathanas Alive that  I can think of, is with the odd trio of records, Smiley Smile (1967), Brian Wilson Presents Smile (2004) and The Smile Sessions (2011, recorded 1965-71). Brian Wilson probably isn't the only person who rates Brian Wilson's Smile the most highly of the three, but he is definitely in a small minority. Smiley Smile may have essentially been a work of expediency, a slightly silly mish-mash – albeit one full of incredible music – completed for partly commercial reasons, but it's nevertheless imbued with the atmosphere of the psychedelic zeitgeist of 1967; one of the elements which is most obviously missing from Brian Wilson's Smile (the Beach Boys being the other, even more obvious one.) It is, however, a neat, sunny, well-recorded, impeccably performed collection of songs. More, in a way, like an orchestra recording a symphony than a band playing an album. Meanwhile, The Smile Sessions has it all; inventiveness, insanity, atmosphere – it is practically all zeitgeist – fantastic songs and, at its heart, a brilliant if somewhat confused band, often audibly grappling with material which is making their brains hurt. Still, the Malmsteen/Hendrix correlation doesn't work here. Brian Wilson's band is flawless in their technical interpretation of the music – but no more so than the Beach Boys were, and for all their undoubted skill, they are certainly not better musicians than the Beach Boys either. What's missing is the messiness, the inspiration; which makes one wonder about modern interpretations of the great classical works versus the performances in the composers' lifetime. If Purcell for example, could hear a modern performance of Dido and Aeneas would it sound  as plastic to him as the least exciting moments of Brian Wilson's Smile do? We can never know, which is probably just as well.
The problem of living up to one's past work is one that any successful artist with a long career comes up against. In music (that I like) there are some very obvious examples; when Paul McCartney performs Beatles songs or Morrissey performs Smiths songs, there is obviously an authenticity there that is lacking in a cover by another artist; and often they sound good and the fans love them, but no-one would pretend that it's the same as hearing The Beatles or The Smiths. That of course may be as much due to the listener as the performer, but not always. Black Sabbath has had several vocalists who are infinitely 'better' at singing than Ozzy Osbourne, but not one of them could sing 'Iron Man' without sounding a bit laughable. Bruce Dickinson is the only Iron Maiden vocalist who can sing 'The Number Of the Beast' et al correctly, but he doesn't sing Paul Di'Anno's songs as well as Paul Di'Anno did. And that's just the singers. You would think any guitar player with the ability and the right equipment could sound like Tony Iommi, but even on the strangest, least Black Sabbath-like Black Sabbath albums, the guitars sound right, where even in the best covers, they usually don't, quite. I was lucky enough to meet Thomas Gabriel Fischer of Celtic Frost/Tryptikon a few years ago and asked him how – given the multitude of different guitars, amps and production budgets he has had over the years – his guitar tone (not his style or playing, just the actual sound it makes) has remained so recognisable from the first Hellhammer demo to the latest Triptikon album. He told me 'it's the way I play it.' And even though it's hard to see how that can be right, it must be.
All of the above reinforces that simple and obvious point; art is subjective, so be yourself. No-one can be you like you can. But again, that is not the whole story. As the evolution of Smile suggests, the further one travels from the initial inspirational impulse, the less powerful the vision can be; which makes sense and seems to be confirmed by the work of many visual artists and writers.
PART TWO: THE VISUAL ARTS
Partly, the perception that art can overwork and dilute the original vision comes from modernist taste; the revolt against academic art that began with the Romantic movement and was confirmed by following generations of artists and theoreticians all the way through to the 1960s, looking to (what they sometimes patronisingly perceived) as 'untutored' art produced by cultures other than their own, 'naive' artists, the mentally ill,  children; people who they felt were closer to the unadulterated forces of creativity than the trained professional artist, writer or musician. The willingness and ability to enjoy the incomplete, sketchy and unfinished (a classic example; John Constable's rough oil sketches vs. his highly finished works) is perhaps a mostly modern phenomenon, but I don't think it's just pretentiousness. In Hans Holbein's great portraits of the 1500s, such as those of Lady Audley and Lady Guildford, something – some kind of vitality – has been lost – or perhaps traded – the fleeting for the permanent – between the original pencil sketch and the final painting.
Similarly, Ingres, one of the great technicians of the neoclassical period, could produce a painting of skill and beauty like the 1807 portrait of Madame Devauçey, but somewhere seems to have lost something of the life that was so perfectly captured in his original study. And the moral of this is? Is there one? Capturing something and creating something are not the same thing, and anyway, painting a portrait is both. Not only essentially 'realistic' artists like Holbein and Ingres, but also, arguably, artists like Brian Wilson, Jimi Hendrix, Yngwie Malmsteen and Euronymous are doing both; it's just that away from 'realism' of one kind or another, the dividing line between capturing and creation is eroded, sometimes to the point of non-existence. Inspiration isn't one, unchanging thing; Live in Leipzig doesn't capture the first, time Euronymous played/created the solo – it is simply the best version he happened to play while being recorded  – and for all I know he preferred the final version on De Mysteriis Dom Sathanas anyway, just as Ingres almost certainly preferred the finished painting of Madame Devauçey, not least because he had managed to replace the fleeting, lifelike effect of the sketch with something classic, monumental and perfect.
PART THREE – WRITING
Writing, too has parallels with all of these things which, if anything, take this piece even further from any kind of definitive conclusion. While Wordsworth preferred his complete and, to most modern readers, slightly lifeless version of his great autobiographical poem The Prelude to the more vivid early version, it was in the nature of the work itself – the Growth of a Poet's Mind – that the early version couldn't be definitive in the sense that the final one is. It wasn't supposed to be a work of youthful energy and if we prefer the young version we are almost certainly wrong to do so, from Wordsworth's point of view. And yet it feels like The Two-Part Prelude (1798-9) and The Prelude (1805) are right, where The Prelude (1850) is only good. It's easy to forget from Wordsworth's later works that the aim of the Romantics was (initially at least) for the absolute opposite of an artist like Ingres; simplicity (though neoclassicism values simplicity in a different kind of way), vividness & the fleetingness of life, rather than monumentality, rigidity and academic perfection. But as The Prelude demonstrates, not all ideas are simple and not all ideas – even simple ones – are best expressed simply. But I think that our instincts tend to tell us otherwise. (I've said similar things while making a different point a long time ago)
Having struggled through it and even enjoyed roughly half of it on the way, I would be among the majority who agree that James Joyce's Ulysses is absolutely his masterpiece, but by almost any criteria aside from originality (of execution, rather than theme etc) most readers would find his A Portrait of the Artist as a Young Man to be 'better'. The 'difficult' nature of Ulysses itself inspires a kind of confidence; while being far more 'lifelike' than A Portrait… it feels blatantly, intimidatingly clever, where Portrait… feels life sized and familiar. Somehow it feels like masterpieces should be clever, perhaps more than they should be enjoyable. As with music, the pigeonholing of literature into 'popular', 'genre', 'literary' etc creates a sense of hierarchy that is essentially meaningless. If nearly everyone likes and understands and relates to A but hardly anyone likes, understands or relates to B in what way can B be better than A? What are the criteria, if not human responses to the work?technical ones? Who outside of academia cares about those? And who outside of academia cares what academics think, most of the time? But all that said, is A Portrait of the Artist as a Young Man better than Ulysses? I don't think so.
On a more homely and yet more epic scale (see: genre vs. literature), the four volumes of J.R.R. (and Christopher) Tolkien's The War of the Ring (or indeed the full 12 volumes of The History of Middle Earth) are fascinating, engrossing and full of drama and excitement. But I don't think anyone would pretend that it's as good as The Lord of the Rings. This, despite the fact that the excitement of creation (the sketch vs the finished painting) is more vivid everywhere in the pages of The War of the Ring than it is in The Lord of the Rings. And yet for some reason Bingo Bolger-Baggins and Trotter have not replaced Frodo and Strider in the hearts of Tolkien fans.
So; what I am left with is platitudes and contradictions – art is not a science; sometimes inspiration is better than polish; sometimes polish is better than inspiration; sometimes simplicity is better than complexity and vice versa. Great art comes easily; great art doesn't come easily. It's better to be a genius than a craftsperson. Being a genius is no use unless you are also a craftsperson. Nothing is true, everything is true. So I'll end with this; I don't think there's any method, scientific or otherwise, that could prove that standing in a gallery looking at the Mona Lisa is a 'better' experience than standing in a gallery looking at an exact reproduction of the Mona Lisa; but somehow, it is. I would like to think that, even without the knowledge and emotional baggage we bring to these things, that that is still true. But it might not be. Anyway, De Mysteriis Dom Sathanas Alive is really good, but that solo on 'Freezing Moon' isn't quite right.