This Friday's weekly musings have a specific subject: the 'Extended Play' (EP):
Just when the album as a physical format seemed to be dying out, the (somewhat overstated) vinyl renaissance came along, reiterating the obvious; that songs are great, but sometimes a collection of songs, sequenced in a certain way, is even better. But what of the EP? Of all the available ways of collecting recorded music (apart, of course, from the cassette single/"cassingle") the EP has always had the least secure place in the pantheon of formats. Actually pre-dating the LP (for practical/technical reasons; it was easier to fit a few songs on a piece of shellac or vinyl with the cutting equipment available), once the long-player became available it inevitably eclipsed the EP in 'value for money' terms. That said, early album reviewers often complained about the amount of lesser quality music that padded out LPs – but the 'extended play' was nevertheless sidelined, although most major artists continued to release them sporadically.
The virtues of the EP remain obvious though; at their best they are essentially albums without filler (and at a lower price); and indeed throughout the early 90s many indie bands (especially in the shoegaze scene) produced their best, most representative work on EPs. But all this is because a couple of things I've heard this week reminded me of the virtues of the format because they exemplify them perfectly:
Dia – Tiny Ocean (Manimal Records)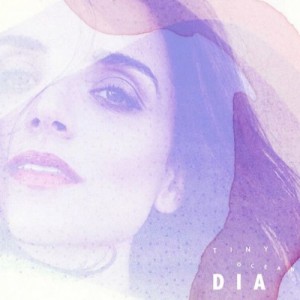 Tiny Ocean is the debut release by Dia (composer/singer Danielle Birrittella) and it's a beautifully complete, mature and rich piece of work, based somewhere in the realms of shoegaze, cinematic, baroque pop and folkish singer-songwriterdom, but not quite belonging to any of those genres. Quick summary –
Opening song 'Covered In Light' is like a gorgeously extended lush swoon, Danielle's angelic vocals floating on a velvety cushion of ethereal synth and strings. By contrast 'Synchronized Swimming', though no less melodious, is tuneful, percussive and achingly wistful, the musical texture more organic and less unearthly. It's an outstanding, lovely piece of work and perhaps the most affecting of the songs on the EP. 'Tiny Ocean' drifts in on a warm haze of strings and flows peacefully but mournfully, a soothingly downbeat track with a beautifully subtle melody. The waltz-time, ukulele-led 'Gambling Girl' strips the sound back before building into full-blown baroque pop with an outstanding vocal performance, while 'St Paul' is a short but very sweet folk-tinged lament and the EP (which is very nearly an album) ends on a high with the insistent beat and languorous melody of 'Big Man' leaving a warm, tingling silence in its wake.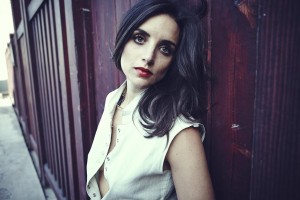 Tiny Ocean's perfection is reinforced both by its rich, seamless sound, courtesy of some well-known producers (Joey Waronker, Tim Carr and Frankie Siragusa) and also Danielle Birrittella's talent for knowing when a mood/tempo change is required. Dia differs in this respect from much dreampop (which it resembles to an extent); its sweetness – at least in EP form – is never overpowering or boring. The richness of sound is necessary with all the layers involved – indeed, it's impossible to imagine Dia's music in a rough, demo state, although it's probably just as lovely – but in the end the sound, wonderful though it is, wouldn't mean much without the excellent songs to justify it.
Dia Website
Dia on Facebook
Dia on Instagram

A contrast in almost every way is …
Debz – Extended Play (Choice Records)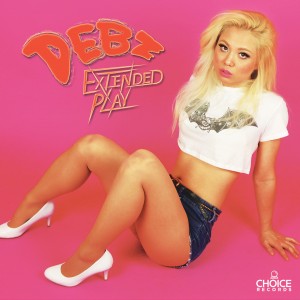 The self-explanatorily titled debut EP by New York's Debz is brash, trashy, smart, new wave-influenced snotty lo-fi punk-meets-synth pop and its seven short songs are a peculiar but very potent and refreshing mixture of swagger and vulnerability, dismissive scorn and detached heartbreak.
The more aggressive songs like 'Plastic Wrap','A Real Romance' and 'Lobster Eggs and Maggots' are minimalist grungy punk rock with great primitive drumming, tons of attitude and Debz' imperious, slightly robotic singing voice. It's not just posturing punkiness though; the strident, bleak and alienated "Did I Die" is one of several songs that cut deeper than my introduction might suggest.  In fact, there's a surprising range of mood in the (relatively) more gentle songs, like the self-referential pop culture collage of "Barbizon" and the surprisingly tender and desolate "Love, Love, Love, Love. Love". The uncomfortable but addictive mix of ebullience and bleakness carries through to the final, very short primitive synth-led track, "Big Time Baby".
They may be at different ends of the stylistic spectrum, but in its own gaudy, dayglo way, Extended Play is every bit as much a work of art as Tiny Ocean is; abrasive and appealing, it's a perfectly formed EP and, better still, it's available on 7" vinyl, which I will be purchasing shortly.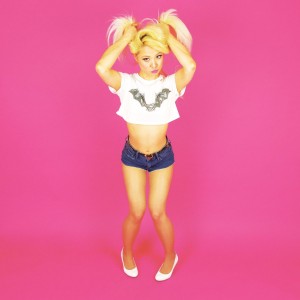 Debz' website
Debz' twitter
and that's all for now!