Rachel Mason
'Das Ram'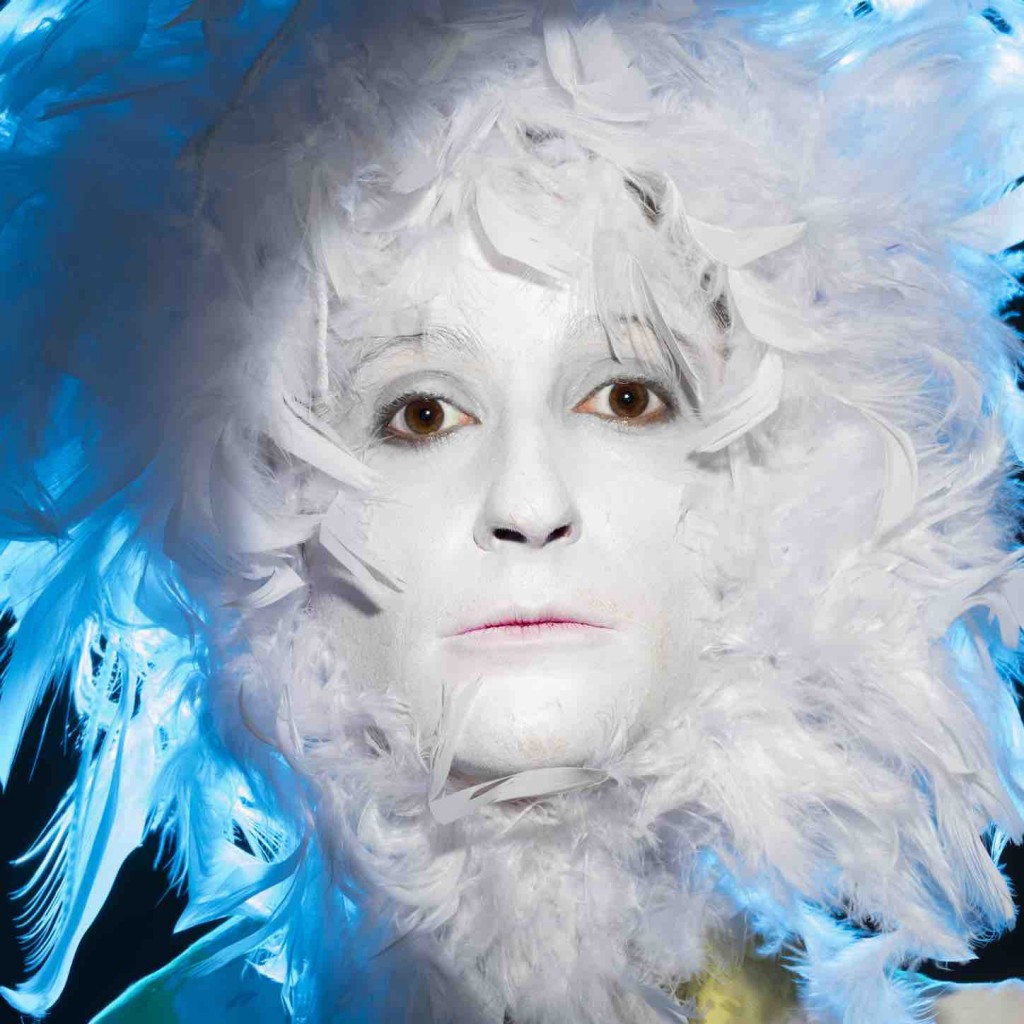 Cleopatra Records (LP) / Practical Records (cassette)
Release date: 18 November 2016
Rachel Mason has done so much work in so many fields (performance art/non-performance art/filmmaking/music/etc/etc – check out her website for a cross-section) that it's easy to immerse oneself in her work. In music alone she has amassed a vast and varied discography within just a few years.
Where her earlier albums like the couldn't-be-more-my-cup-of-tea work of towering genius Gayley Manor Songs (2015) were simple, home-made, stark, and direct and the conceptual The Lives of Hamilton Fish (also a film) was sprawling and dramatic, Das Ram is a full-blown modern pop-rock album, full of catchy songs with a flamboyant, very New York flavour, reminiscent at times of the Yeah Yeah Yeahs, Talking Heads or even (at its most pop) Lady Gaga.
photo by Chris Carlone
Opening track 'Roses' launches the album with a dramatic, lilting and atmospheric intro before kicking into gear with new wave-ish guitars and a rock/dance beat. It's catchy and full of pop hooks, but Mason's excellent vocal perfectly delivers the troubled, even mournful lyric ('I sometimes think that life is evil/it's just something that fills me with dread') that uses the rose as a symbol not only of beauty and romance, but also of the pain and transience of life. As a lyric, it's perfectly judged; as densely layered as poetry, while as simple and direct as the best pop music. 'Heart Explodes' by contrast feels less spontaneous, carrying on with the metaphysical preoccupations in a more theatrical, almost Kate Bush-like way, Mason's expressive voice(s) bringing the song to a chorus that is a peculiar crescendo made from conventional romantic language, genuine wonder, exultation and distress.
Mason's voice is again at its most powerful on the less-straightforwardly-satisfying 'Sandstorm' on which she winds together enigmatic images of miscommunication ('I believe in lies about the world') with escalating intensity  over a prowling skeletal electronic funk that wouldn't be out of place on a Grace Jones record, building tension but never quite releasing it. For a sense of release, the strutting electro-pop/funk cabaret fantasy of single 'Tigers In The Dark' follows; a kind of Talking Heads/Franz Ferdinand/Lady Gaga hybrid that, unlike her earlier folk/acoustic work feels 100% the work of a performance artist; the song is great, but the delivery, the theatricality is everything. As with Bowie (among others), the artificiality expresses the soul of the performer/character far more than something more apparently earnest would.
By comparison, the pulsating electro-pop of 'Marry Me' feels more like a vehicle for its complicated, beautifully detailed lyric and less an embodiment of it, although the contrast between the long, passing-of-time-obsessed verses and the simple, plaintive chorus ('marry me/carry me over the hearth where a lost soul can hide') grows more poignant as the song wends towards its end. A highlight of the album, it makes up in naked vulnerability what it loses to 'Tigers…' in glitzy disco-ness. 'Queen Bee' is one of the more penetrable lyrics on the album, using the image of the queen bee as a straightforward metaphor for loneliness, alienation and dependency ('those friends were never real friends') and the music captures the lyric in its stolid, regimented plod, with some very effective buzzing textures to reinforce the central image and some folk-inflected singing from Mason.
For a few dissonant seconds, 'Cancer' seems set to be the album's darkest track, but then it unexpectedly breaks into a kind of rockabilly trot, albeit one spattered with peculiar squelches, squeaks and sound effects. Although not as grim as expected, it's not the easiest-on-the-ear song on the album, sounding at times like two or three songs being played at once, and its chant-like vocal and slightly atonal chorus make it one of the more nerve-jangling songs in her catalogue.
Das Ram ends on a relatively more harmonious, if abrupt note with the angular funk verse/sweeping chorus of 'Heaven', which has a kind of early 80s, Ippu-do feel, before ending suddenly after the somewhat expected hedonistic refrain of 'you and I are getting high.'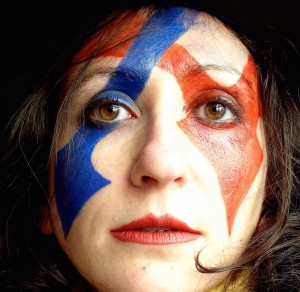 photo by Kerwin Williamson
Taken as a whole, Das Ram, is a bold, exciting and accessible album, utterly different from the acoustic/folk rock textures of Mason's earlier works like Hamilton Fish…, Turtles or indeed the raw, homemade quality of Gayley Manor Songs.  In fact it's not like any Rachel Mason album I've heard (though I haven't heard them all). Only a handful of artists have convincingly made a gesamstkunstwerk in the idiom of popular music without falling into the trap of overblown pretension – and most of those have spread from the music world outwards. With the confident, powerful Das Ram, Rachel Mason has become one of an even more select group – an artist who has learned to express herself with equal authority in whatever medium she chooses – and who seems to have fun doing it.