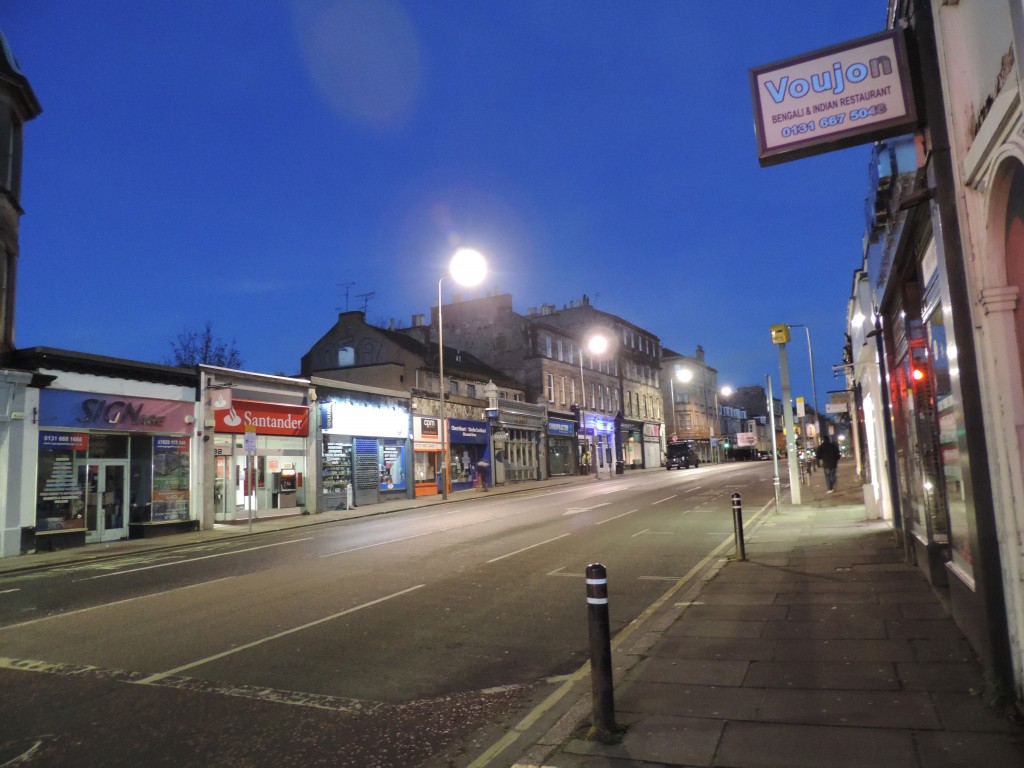 It was a beautifully clear, cold autumn-heading-into-winter evening in Edinburgh. As the eight o'clock concert approached, the streets of Newington were calm and mostly empty. After a few moments of worry about finding the venue I realised I knew where it was, which was handy.
Although a seated solo show with readings from the author's works, prefixed 'An Evening With…' seems about as grown-up and civilised as a rock concert can be, there's (for me at least) a slightly surreal edge of teenage flashback about the whole thing, not least because of Summerhall itself. Once a veterinary school, the artwork and noticeboards on the walls, the sets of double doors, the echoing stairways and empty rooms along the weakly lit corridors conjure exactly that atmosphere of being at school after hours, all the more powerful for being unexperienced for 25 years or so.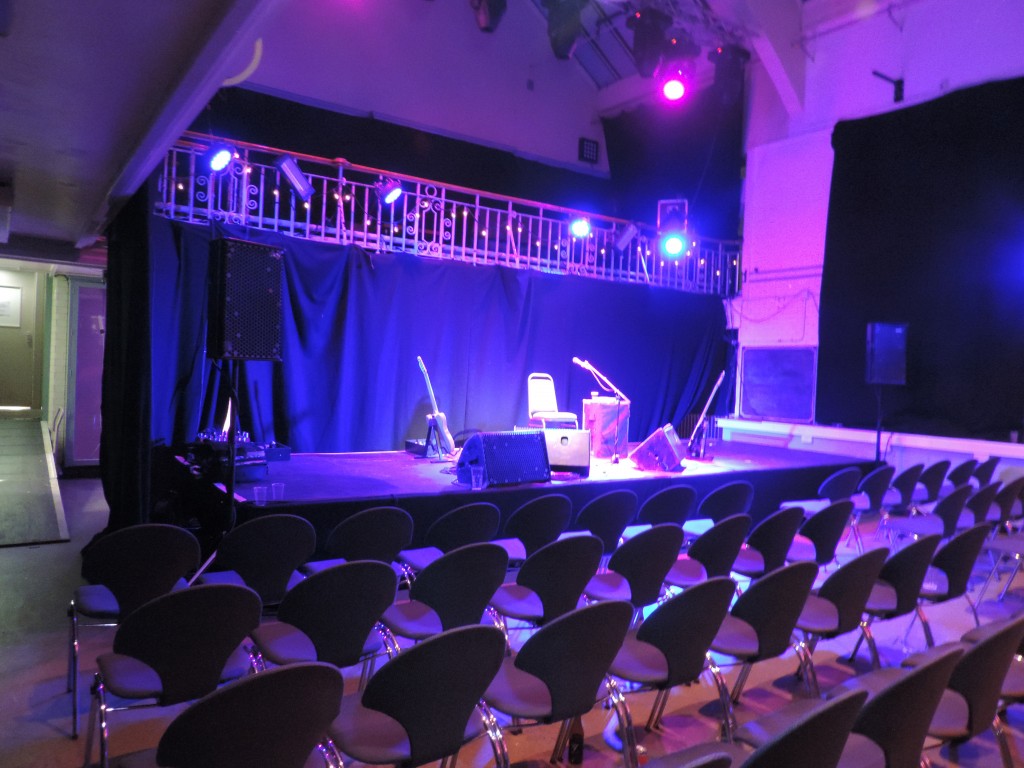 The sinisterly-named but actually very pleasant 'Dissection Room' itself initially strengthens the familiar atmosphere, despite the high, somewhat church-like ceiling. The rows of plastic seats in front of the low stage have, if it wasn't for the side room with a bar, an irresistible feeling of the end of term school concert. And what better person to see here than Kristin Hersh? Like many people of my generation, my first encounter with the singer/songwriter/guitarist was in 1991 when Throwing Muses' 'Counting Backwards' became an indie hit, followed shortly by the release of their Top 40 hit album The Real Ramona. I loved it; I still love it, and while the music press at the time were pushing the band's other singer/guitarist, Tanya Donelly, as no. 1 indie pinup (or possibly co-no.1 with Curve's Toni Halliday) for me, Throwing Muses were all about Kristin Hersh. I liked her voice better, I liked her songs better (I had a bigger crush on her) and while Donelly's post-Throwing Muses band Belly was definitely to my liking, they didn't grip me in the same way Throwing Muses, or Kristin Hersh's solo work did. Never saw her live though.
So, on this very crisp November night, sitting among the politely expectant audience, already loving Kristin's new album/book (which I pointlessly gripped in my sweaty hand through the show, I was quietly excited. The stage was set with a chair, two guitars, a couple of pedals (which I had a look at later; for fact fans, they were an acoustic simulator and a chromatic tuner) and a small table/case of some kind with a small pile of books on top. Based on the sound of the album I had expected an acoustic guitar, but in fact she plays (what I think is) a Fender Classic Series '72 Telecaster thinline, with which which she manages to – but wait, here she comes.
 Stepping slightly self-consciously onto the stage, Kristin smiles at the crowd, warns us that she can't see without her glasses, so to scream for attention if required, and takes her seat. A small, neat blonde figure informally dressed in a long skirt and pink t-shirt, Hersh is both pixie-like and indomitable, her piercing eyes noticeable even from my seat in the 6th or 7th row. She is also, as I knew from her records but somehow hadn't really considered until now, an exceptional guitarist. So, after a brief and funny apology in advance for playing new songs, she launches into Wyatt at the Coyote Palace's enigmatic opening track, 'Bright'. The sound is very close to the album, the rich, reverberating tone of the guitar filling the lofty space of the hall and more than making up for the lack of the very detailed layers of the recordings.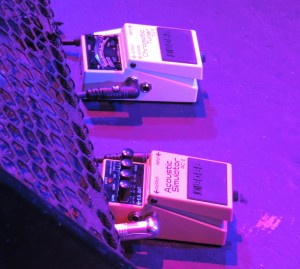 The relaxed and good-humoured show was weighted towards solo material, with a few Throwing Muses songs and readings from her books punctuating the set. With the sound pared down to one woman and a guitar, the differences between the more punky band material and her solo work (even the folk songs of Murder, Misery and Then Goodnight) are minimised. This isn't to say that it's an evening of hushed softness; in fact the presentation brings out the feral power lurking in songs like Crooked's melodious 'Mississippi Kite' as well as – and I mention it because it was the high point of the show for me personally – starkly bringing out the desolation at the heart of 'Sno cat'; not that it was very different from the album version particularly, but it was one of those instances where the context of the spoken introduction (an anecdote rather than a reading) filled the gaps in the allusive, oblique lyric and gave it a huge emotional impact.
Probably the most rapturous reaction from the audience came fairly early in the set with the performance of the forlorn 1994 classic 'Your Ghost' which was as (sorry) haunting as ever and, gave me one of those indescribable flaneur-ish 'alone in a crowd' moments that are extremely powerful while being neither happy or sad exactly. There were many other highlights; the aforementioned 'Sno cat'  several from Wyatt… the 'Hooker Gazpacho' reading, 'Between Piety and Desire' and 'Guadalupe'. A reading from her memoir of the late Vic Chesnutt (Don't Suck, Don't Die) was followed by a beautiful version of 'Bakersfield' from his classic 1990 debut Little.
In the live setting, the relationship between the readings from her books and the songs they are connected with (I went on about it too much in my album review so won't go on about why it's good again here) is even more evident and the pacing of the set is perfectly judged and at about two hours, was over far too soon. There was a three-song encore, including a great version of the brilliant (and in the context of Kristin's introductory anecdote very funny) Throwing Muses classic 'Cottonmouth', which was one of the first songs that introduced me to her music, twenty-five years ago; a strange, sad, happy kind of magical feeling. And shortly thereafter Kristin left the stage.
Apparently I regressed to my teenage state during those two hours; I was too 'spellbound' I suppose, to take any pictures while the show was on, and then, despite ten years or so of writing about music and interviewing bands, I lurked around for a bit, chatted to the sound guy, clutched the book I had intended to get signed, faded into the background and eventually wandered out into the wintry (though not quite frosty) city night, feeling a mixture of things that added up to 'satisfied' in a way that was absolutely definitive of the adolescent version of me that fell in love with Kristin Hersh and her music in the first place. It was a good show. I wish she'd done 'American Copper', but you can't have everything.