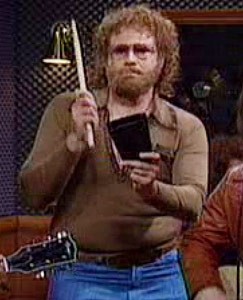 Thanks for this article are owed to Jamie Cowey (for the title) and the anonymous person whose enlightening comments on my original version of this have been incorporated into the section on Honky Tonk Woman…
AND SO…
The cowbell has presumably been part of the percussionist's arsenal since early in the Jazz period, but it really came into its own in the 60s and 70s; but that's not what this is really about.
'Cowbell rock' is, as well as being a hugely irritating electro classic by Pyramyth, almost a genre of its own, and this is a brief (mostly unresearched, therefore probably mostly wrong) glance through it.The obvious disclaimer here is that rock comes from blues  and R&B music and therefore the true history of the cowbell in popular music should feature many more black musicians than are included here. But this isn't a true history of anything really.
There are notable uses of the cowbell in mid-late 60s pop and rock, notably The Beatles' Drive My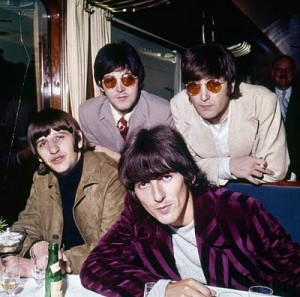 Car (1966), which perhaps surprisingly prefigures the genre with its funky soul influence.  The Spencer Davis Group's equally soulful Gimme Some Lovin' (1966) also features possible cowbell* although to my ears it sounds more like a tambourine. *see note on Honky Tonk Woman below
Iron Butterfly's psychedelic rock monster In-A-Gadda-Da-Vida  is often cited too (including by me elsewhere), though a proper listen to the song reveals that although there may be cowbell there (and it is certainly implied by the beat etc) it mostly sounds like straightforward snare/toms.
So to me (and I am happy to be put right on this), the art of true cowbell rock begins…
The Rolling Stones – Honky Tonk Women (1969) –  before anything else, the intro is purely cowbell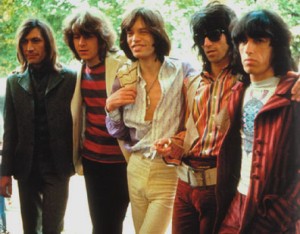 and from then on the song establishes cowbell rock;  a rocking, yet laidback beat that holds everything else together. It was to prove hugely influential on the rock of the 70s and every revival thereof up until the present day. Interestingly (this is the part alluded to in the introductory note; thanks anonymous person), it is most likely erstwhile Spencer Davis Group producer Jimmy Miller, rather than the undoubtedly brilliant Charlie Watts, who plays the cowbell.
The 70s was the cowbell era and the classics are many and (to a degree) varied: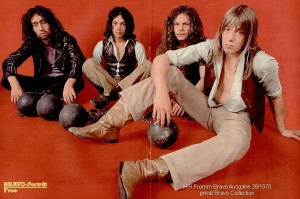 Free – All Right Now (1970) – picks up where Honky Tonk Women left off, with even bigger gaps in the riff; more room for cowbell.  Most of Free's early work should really be in the 'implied cowbell' list below
Velvet Underground – Sweet Jane (1970) – an honorable mention really;  the cowbell (if there is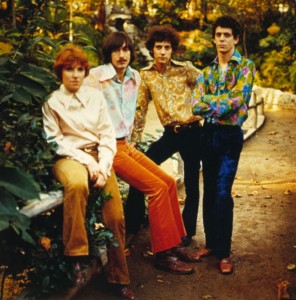 any) is not very audible but this should be a cowbell classic based on the riff alone (more such nonsense below).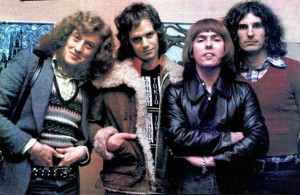 Slade – The Bangin' Man (1974) – a tongue in cheek, slightly sad song, seemingly alluding to the memory problems the great Don Powell suffered when recovering from a  horrendous car crash; but his  drum/cowbell playing here is peerless.
David Bowie – Diamond Dogs (1974) – the sleazy death throes of Ziggy provide the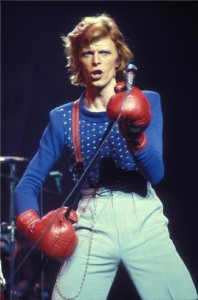 perfect backdrop for some classic cowbell courtesy (I presume) of the great Aynsley Dunbar. Interestingly, Bowie's flirtation with cowbell rock outlasted his glam period; check out the Young Americans-era outtake I'm Divine for some classic cowbell with more of a funk flavour.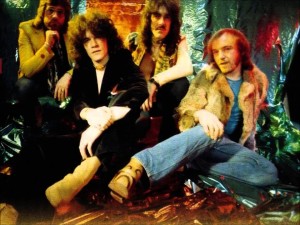 Nazareth – Hair of the Dog (1975) – basically a compendium of everything cheesy-but-good about mid-70s hard rock; and they came from Dunfermline!
Kiss – Calling Dr Love, Ladies Room, Take Me etc (1976) –  Presumably Peter Criss got a new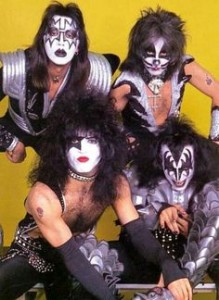 cowbell in 1975/6 because it's all over the classic Rock & Roll Over album (released November 1976), giving it a looser, warmer feel than the also great but clinically orchestrated Destroyer (released March 1976, shockingly; When they were good, they were productive!)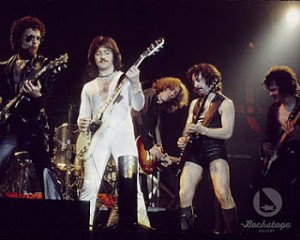 Blue Oyster Cult – Don't Fear The Reaper (1976) – the tempo is slightly too frantic to be classic cowbell rock (though the cowbell is very audible!), but this has to be mentioned thanks to the excellent Saturday Night Live sketch with Will Ferrell.
Aerosmith – Last Child (1976) Many early Aerosmith classics have implied cowbell (see footnote),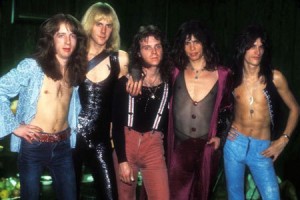 but this slow & dirty-sounding masterpiece has the real thing.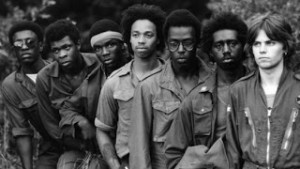 War – Low Rider (1975) – somewhat out of genre being funk, but this song belongs in any discussion of the cowbell in popular music. I'm sure Funkadelic must have used it too, but nothing comes to mind so I'll leave that for now…
Beyond the 70s there's still plenty of cowbell action but on the whole not in the classic mould, but a few nice examples are:
Motley Crue – Wild Side (1987) Tommy Lee is not as good a drummer as he or his fans think he is but although he doesn't use the cowbell properly here, he uses it well.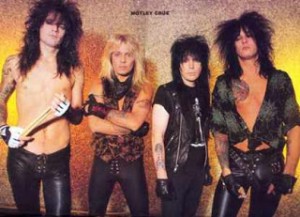 AC/DC – half of their songs (you would think, examples are rarer than one would hope), they kind of built a career on it.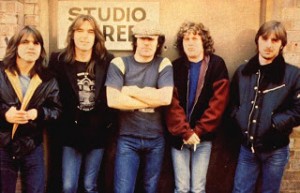 Pixies – U-Mass (1991) Who'd have thought? But they do it well.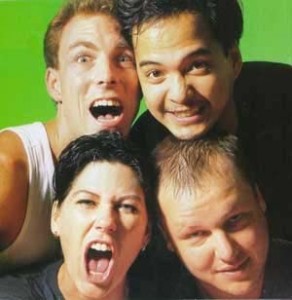 Nowadays there's probably more cowbell rock than ever, but as far as I've heard it's mostly a purely retro/pastiche/tribute thing so  worthy of consideration, but not here…
POSTSCRIPT: IMPLIED COWBELL
The list of songs that are, to all intents and purposes 'cowbell rock' but have little or no actual cowbell is distressingly long; someone should add some posthumous cowbell to these at the very least:
Edgar Winter's White Trash – Give It Everything You Got  (1971) Dirty, nasty, gritty, funky rock, oddly the intro is kind of Stooges-like, but anyway; no cowbell.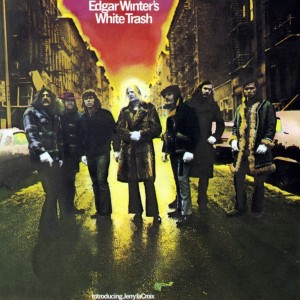 Black Oak Arkansas – Hot And Nasty (1971) – The title says it all. Would have been hotter and nastier with cowbell though
Alice Cooper – Be My Lover (1971) – Great anyway, but how much greater would it have been a tiny bit slower and with
cowbell?
ZZ Top – Waitin' For The Bus  (1973) It nearly has cowbell on it. Let's just pretend it does.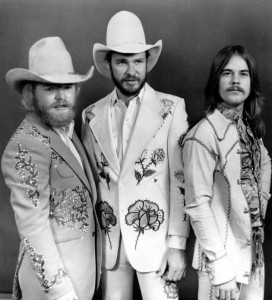 Foghat – Slow Ride (1975)  – come on, this blues rock classic has everything except the icing on the cake; where's the cowbell Roger?
Ted Nugent – Cat Scratch Fever  (1977) – same principle as above, maybe Ted is too much of a guitar guy to care about getting the percussion right? Ditto Stranglehold, but that said, I haven't heard a huge amount of early Ted,  isn't there bound to be at least one cowbell anthem in that oeuvre?
Whitesnake – Come An' Get It  (1982) – Whitesnake's work is a bridge between 70s rock and the harder, more modern 80s version; this would have been a tiny bit better with cowbell though, no?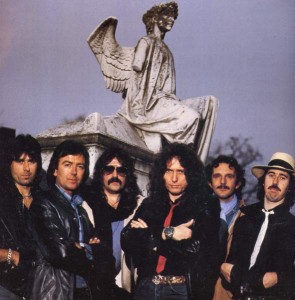 Judas Priest –  You've Got Another Thing Comin' (1982) – The beat is right, Rob Halford gives the perfectly assured performance the song needs, but Dave Holland does everything right except play the cowbell; possibly they wanted to distance themselves from the 70s at this point
Manowar – Metal Daze and  Shell Shock (1984) Great, great testosterone fuelled nonsense/genius, the former song may have to be featured in a 'best notes ever hit by a vocalist' article at some point. But should have got out the cowbell guys; not metal enough I expect.
The Rolling Stones – Start Me Up (1981) and The Cult – Love Removal Machine (1987)  The same song, more or less. Both bands forgot the cowbell though.
In fact, The Cult's transformation from moody goths to leather-clad rock gods was generally lacking in cowbell, despite the potential of songs like the awesome-anyway Wild Flower. That does however have some tambourine or something similar on the choruses to give that faux cowbell flavour.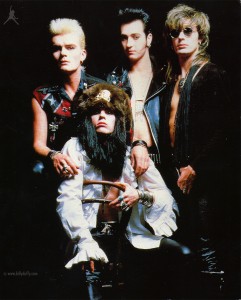 Overall though, it is the 1970s that is the true era of the cowbell, and this is all just the tip of the iceberg. One of the great things about 70s rock is how much of it there is – and surely there must be many cowbell classics lurking out there, just waiting to be rediscovered by modern ears…