Something of an experiment; reviewing an album while actually listening to it. As will be seen, the downside of this approach is that there isn't much time for fact-checking and so forth and it leads to a lot of description rather than actual criticism, but I thought I'd leave it as it is to give the most immediate response to the record. In this case, a record I have heard lots of times before, which is helpful (and, if there were rules, cheating; but there aren't). Anyway; the info:
Yaadon Ki Baaraat Original Soundtrack (Odeon Records, 1973)                                                               Composer/Musical Director: Rahul Dev Burman
Firstly; the sleeve for this record is a fantastic pop art design, presumably echoing the poster design. I haven't checked to see what the story is about, but the cool guy with the guitar and the possibly less cool singer standing in front of a drum kit with 'The Avengers' written on it suggests a preoccupation with western pop/rock music, which is also evident on the soundtrack itself. Also worth mentioning is the lovely thick and heavy vinyl. But putting the record on now…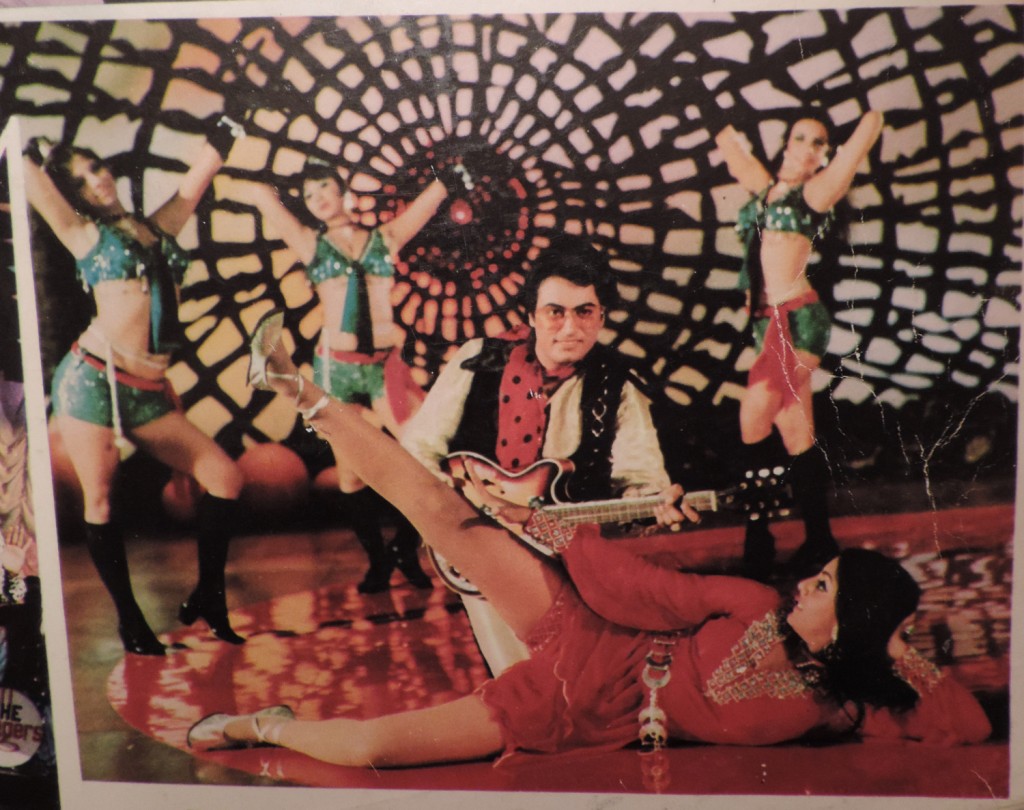 This amazing soundtrack suggests that for Bollywood, or at least for Rahul Dev Burman, whatever the calendar may have said, the year was really 1966; that heady period of spaghetti westerns, garage rock, late surf, early psychedelia, James Bond and Adam West's (and Nelson Riddle's) Batman. All of that is telescoped into the eighteen thrillingly eccentric minutes of side one; it may be (in fact the pictures from the sleeve suggest) that this for-the-time retro sound has something to do with the film's storyline.
Side One
lekar ham diwana dil
Beginning with a roared 'Hey!' followed by thumping, echo-laden percussion, fuzz and wah-wah guitars and a main theme which could be described as 'Surf Munsters Go James Bond' with added spaghetti western trumpet, this first track really has everything. There's even what sounds like go-go dancer girls (how can it sound like go-go dancers? It just does!) singing a 'shake-shake' refrain, before Kishore Kumar sings the actual song with some classic Bollywood strings coming in for good measure. The verse is then sung again in the amazing unearthly high tones of ('brimful of') Asha Bhosle. There's a great swinging beat – which in fact remains much the same for the majority of the album, and an expressive guitar solo and wah wah organ(!) This track sets out the basic texture of the album; distorted, strummed acoustic guitars (I think) with heavy percussion, all swimming in swimming-pool reverb. Kumar and Bhosle sing together, Bhosle groans sexily, there's a bit of heavy brass and beat break with added 'shake shake's, lots of drama and then the track ends with a reverberating wah-wah-ed chord. One of the grooviest pieces of music you will ever hear.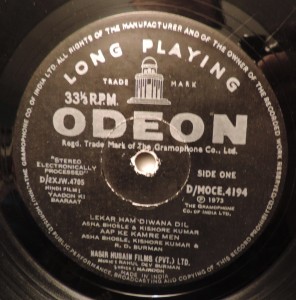 aap ke kamre men                                                                               The rest of side one is taken up by aap ke kamre men, a peculiar, live-sounding medley of song fragments linked with dialogue (with odd phrases in English) and lots of rapturous applause.
Beginning not with a 'hey' but with a guttural 'HAA!!' and some extremely piercing reverb/fuzz guitar and deep, churning percussion, the first part features an instrumental break strangely reminiscent of the Rawhide theme and then abruptly ends with an eruption of rapturous applause. There follows some dialogue (sounds like a compere of some sort), mostly in Hindi except that it begins 'Ladies and Gentlemen…' and ends 'the song goes like this...'
The next segment of the (sort of) medley is one of the album's best tunes and pops up again and again through the rest of the soundtrack. It's the 'Yaadon Ke Baaraat' tune, which starts out as a haunting, atmospheric, (again) reverb-laden flickering guitar part and a singer (probably Kishore Kumar again) humming and then singing the tune. After a couple of minutes there's a very odd interlude with strangely watery-sounding beat guitars and a guy singing 'zoo zoo zoo zoo' before dissolving into laughter and more applause. 'Ladies and gentlemen…. ' some hindi dialogue and another great guitar intro and more humming with more rapturous applause. As the not-quite-medley continues, it wanders down some strange avenues, not least a strangely bare segment where a male voice, accompanied only by bass, percussion and a deep halo of echo sings a peculiarly wandering melody. Even the most haunting segments are brief though, brutally cut off by the applause-and-announcer and once by a brilliant reverb guitar break.
About half way through the track there seems to be some kind of audience participation section, where the crowd joins in on a section with a folky beat flavour. At eighteen minutes, the long medley isn't really all that long; but it includes several resprises of the 'Yaadon Ke Baaraat' theme, a minimalistic drum solo, lots of laughter, strummed acoustic guitars and more Asha Bhosle; it's groovy.
Side Two
o meri soni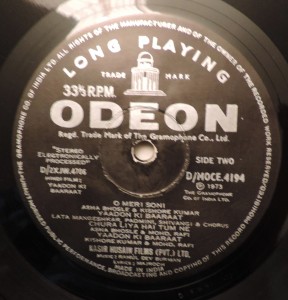 This moodily dramatic song is perhaps the most (to Western ears) typically 'Bollywood' track on the album and opens with soaring strings over richly textured acoustic strumming. Kishore Kumar's impassioned vocal has a slightly sillly 'I loooove yooou' chorus, but the not-unlikeable cheesiness becomes something far more substatial (but still a bit cheesy) with a great bass/guitar/string break and ascending string. The melody wanders and Asha Bhosle joins in with her own piercing beautiful 'I love you's and another verse/chorus. The song ends as a duet, accompanied by organ and strings; it's very cool and then fades out
yaadon ki baarat – This time Asha Bhosle sings the atmospheric tune acapella before the brilliantly shimmering guitar part is reprised. The mysterious atmosphere is enhanced by multitracked Asha Bhosles, strings and organ; and then it;s over all too soon.
chura liya hai tum ne – This is one of the most beautiful of Asha Bhosle's performances on the album. The song has a slow beat and big jangling guitar part and even a hint of Spaghetti Westernish sounding trumpet. There's also a lovely violin solo
yaadon ke baaraat – The theme tune appears one last time, now sung by three male voices. The tune is as lovely as always but lacks the Asha Bhosle magic. It's very possible that (as with opera) I just prefer female Bollywood voices to male ones.
As will be obvious, I know very little about Bollywood musicals or their soundtracks. What I have learned from the five or six I own though, is that Rahul Dev Burman was some kind of musical genius and Asha Bhosle sings like an angel. Both of these factors are prominent on the Yaadon Ke Baaraat soundtrack, which is a masterpiece of slightly kitchy grooviness, brilliantly performed and recorded.