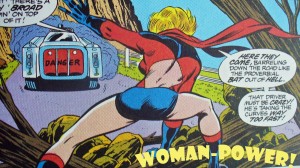 Problem: It's the 70s, you are editor-in-chief for Marvel Comics, the biggest (or joint-biggest) comicbook publisher in the USA. Your readers are mostly fairly young; you want to move with the times. Your top titles regularly receive mail from female readers who want to feel represented, not just as a sidekick or team member, but as a bona fide title character.
DC has Wonder Woman after all, and for all her old-fashioned qualities, she is iconic. Marvel doesn't (yet) do 'old fashioned'. Simple; except for the fact that the majority of the readership (and indeed the vast majority of comicdom's creators) is still male. By and large, these young men and boys are okay with empowered, intelligent and charismatic women. They do want them to be sexy though. After all, to be 'an ordinary person' is kind of not what superheroes are about, and in the comicbook universe of the time (and even now, mostly), the superheroine is 'feminine' (ie curvy), athletic and fond of tight clothing, where her male counterparts are musclebound and fond of tight clothing. So…
Ms Marvel – whose name alone is strongly redolent of the 70s – was one of many comics launched by Marvel in that period to cash in on (or, more charitably, to fulfil a recognised demand for) a specific phenomenon or corner of the comics market hitherto neglected; at the high end of the scale, they attempted to redress the racial balance of their output a little with Luke Cage; Power Man  (and, a few years before that, the superior Black Panther) and far further down the ladder of actual relevance, Captain Britain was launched as part of the then-new Marvel UK imprint (and, several leagues of magnitude more trivial even than that, with the great Dazzler they cashed in on the disco craze), but Ms Marvel was all about a very glamorous, Charlie's Angels*/Cagney & Lacey, 1970s version of feminism. Despite the disclaimers around their creation, there's a lot to be said for these kind of characters; comic readers are used to different artists/writers stamping their personal style on Wonder Woman, Batman, Superman, Spider-man & co; but anything perceived as messing with an icon (witness the Supermullet fiasco of the early 90s) does not go down well. These kind of less venerable characters are far more flexible; writers and artists can experiment with them, change them with the times and, if the central core is strong enough, all is well (which is not to say people don't have their favourite teams/stories etc; see below).
*she even borrowed Farrah Fawcett's iconic hairstyle, albeit in a manner more suitable to gymnastic crime fighting. Unlike the Angels though, she had no 'Charlie' pulling her strings…
 
In the original Ms Marvel series, Carol Danvers was a successful journalist who, in a moment of slightly uninspired (but damn it,  still brilliant!) Stan-the-Man-ism became a female version of Marvel B-list superhero Captain Marvel (himself rather uninspired & definitely not to be confused with the legendary golden age Captain Marvel later known as Shazam.)
As a Marvel title in its own right, Ms Marvel didn't run for long, but at its best it is pure entertainment with a slightly compromised but definitely not half-hearted message of female empowerment. Although (naturally) a sexy superheroine, Carol Danvers was the usual put-upon Marvel character, endlessly worrying about work deadlines, angry bosses etc. However, her insistence on her equality with (or her evident superiority to) her male colleagues (leotarded and otherwise) and her general lack of husbands or steady boyfriends – though old news in the world of actual real people by 1977 – was refreshing in the muscles and capes world of the Marvel Universe.
Mainly written by the eternally underrated Chris Claremont, the comic had heart and action aplenty, although at times the superheroics (Ms Marvel battled an endless list of Marvel's more ridiculous non-iconic villains during her brief run) get in the way of the rather more fun soap opera-like elements of the strip.
The nearest thing the book had to a regular art team was Marvel greats Jim Mooney and Joe Sinnott, perhaps not as glamorous as John Buscema or Jack Kirby, but with their own stylish, hard-edged approach, which in the early issues gave the series a bold, dynamic feel in keeping with its forthright character. Although other artists were to draw Ms Marvel, it is undoubtedly the Mooney/Sinnott team (like the individualistic work of Mike Vosburg on the generally quite comparable Savage She-Hulk around the same time) that gives Ms Marvel its vibrant character.

The only 'star' artist to ever draw Ms Marvel in her original 70s series was the great (and sadly now late) Carmine Infantino, who gave her a finely detailed, subtle sparkle very different from the  feel of the classic issues, but it was too little, too late and shortly after premiering a new, vastly less good (though at least not second hand) outfit (which however seems popular with cosplayers, which is something), the comic was cancelled.  Ms Marvel herself continued (and continues) to pop up all over the Marvel universe,* but it's the Claremont/Mooney/Sinnott issues that have that special something missing from many a 'better' comic series.
*2019 update; she finally got her own movie, kind of. Captain Marvel wasn't quite Ms Marvel, but it was good
It's easy to mock the sometimes clunky melodrama of Ms Marvel, but in fact the book is absolutely typical of Marvel comics in the late 70s, regardless of gender. Her outfits (especially the original/best) are no skimpier than most Marvel heroes, and her domestic woes are absolutely on the same level as Peter Parker and co, and in that sense Ms Marvel; glamorous, tough, funny and hard-done-by, is a true feminist icon of her era; albeit one designed to entertain while reflecting the changing social landscape, rather than actually challenging the status quo. It's just a shame, though not a surprise, that in the 70s, no woman actually got to write or draw her strip.