Despite the title, this isn't really about earworms as such – although they certainly have a place here – this is to do with the background music/soundtrack to your – or my – life. There are serious, life-changing conditions like 'Musical Ear Syndrome" (kind of a musical tinnitus) where the sufferer constantly hears music and in the cases of artists like Kristin Hersh or Nile Rodgers, these kinds of phenomena (not that theirs are the same, as far as I know) can be part of what fuels their creativity. That isn't me. What I – and I suspect many people – have, is songs I already know, playing 'in the background' more or less constantly.
I decided to try to keep track, for a day, of what those songs were. Not an easy task, as trying to remember them if one doesn't make a note of it is extremely difficult, once the moment has passed – and also because it seems likely that focusing on that background noise might well alter the experience.
Be that as it may, I tried to make a note whenever I could throughout the day, of what was 'playing' – and it's an odd mixture. Most surprising to me are how few of the songs are ones I would normally listen to, or like, or have listened to or heard (to my knowledge) recently. Also surprising is the segue from one to another, which happens mostly without noticing and which seems to have no logic to it that I can see. The medleys are even stranger. Also odd that events like conversations, concentrating on work, watching TV etc seem to have little or no impact on the flow of the music, it just gets quieter for a bit.
So here, with many gaps, and with a few notes and repeat offenders marked in red – is my internal playlist for today. It is still ongoing of course (currently James Taylor's cover of Tom Waits' Shiver Me Timbers). I don't see any patterns, but I do notice that most of these songs are surprisingly cheerful given what I mostly listen to on purpose; so that's nice.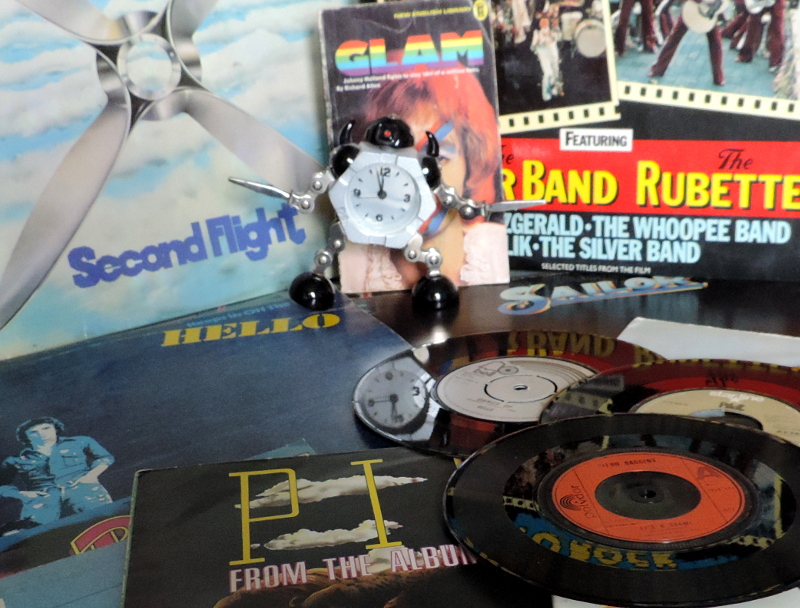 The day began around 6am with a shower; a key place for earworms and related music, in my experience – without further ado…
Barbizon by Debz
Don't You Want Me by The Human League (I have never liked this song)
Young Hearts Run Free by Candi Staton
What's The Frequency, Kenneth, by R.E.M.
Keep on Running by The Spencer Davis Group (but with silly alternative lyrics relating to what I was doing at work at the time)
Ob-La-Di, Ob-La-Da by The Beatles (one of the few Beatles songs I really dislike)
Van der Valk theme tune (I have never seen Van der Valk, why do I know the theme tune??)
Save Your Love by Renée and Renato
Street Life by The Crusaders
I Wanna Be Your Boyfriend by The Ramones
Smokebelch I by The Sabres of Paradise (mainly just the bass)
Your Smiling Face by James Taylor
Orfeo ed Euridice – a particular bit from (I think) Act 1 of Gluck's baroque opera
The Invisible Man by Elvis Costello
Knock Out Eileen by LL Cool J & Dexy's Midnight Runners (strangely likeable mashup given my hatred of one of these songs – found on youtube)
Theme to Monty Python's Flying Circus
Only Shallow by My Bloody Valentine (actually a non-existent, jaunty , squeaky synth-pop cover of the tune of the verse to this song, I'd like to really hear it)
jingle from a TV advert for Mitchell's Self Drive c. 1981 (with the lyric that kids used to sing to it: 'Mitchell's Self Drive/Where people eat pies")
I Only Want To Be With You by Dusty Springfield
It's A Shame by Bilbo Baggins
Temples of Syrinx by Rush
Rockit by Herbie Hancock
NIB by Black Sabbath
Car Thief by The Beastie Boys
Hook It Up by The Donnas
How Deep Is Your Love by The Bee Gees (the verse of this song gets stuck in my head often)
Your Woman by White Town (genuine earworm that was stuck in my head for days, I had no memory of what it was, didn't remember the lyrics and had to search for ages to discover what it was; irony – hated it then, hate it now)
The Eye of the Witch by King Diamond
Good Times, Bad Times by Led Zeppelin
Georgie Girl by The Seekers
Uh-Oh, Love Comes To Town by Talking Heads
Bergerac theme tune (not actually seen Bergerac since the mid 80s)
I've got a lovely bunch of coconuts (just the tune, but still!???)
The World In My Eyes by Depeche Mode
medley: You Can Call Me Al by Paul Simon & Down Under by Men At Work (had this bizarre medley playing in my head every morning for months; oddly when it's not 'playing' I can't work out where the segue happens)
The Neverending Story by Limahl
Good Times by Chic
Fascination by David Bowie
Lovely Day by the Pixies
Graceland by Paul Simon
Shiver Me Timbers… but that you know.
Hmm.