It's Halloween next week; and what better time to write a few words about the parallel universe of outsider music? 'Outsider music' is one of those nebulous but still quite useful terms that litter the language of music. Like "singer-songwriter", it doesn't really denote a specific style, genre or sound, but also like "singer-songwriter", it conjures a specific image, or set of images; the lonely, perhaps crazily talented, perhaps technically inept, perhaps emotionally unstable or mentally ill musician or songwriter who definitely has something unique to communicate; but not something that the majority of listeners will want to hear, and therefore not something that the mainstream (or even non-mainstream but still commercial) music industry thinks it can sell, at least initially.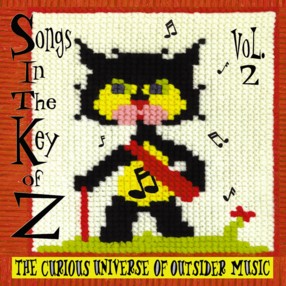 The (relatively speaking) successful outsider artist garners an inevitably niche/selective/small fanbase over time (the definition of a 'cult following') and these fans are drawn to their music for a variety of reasons; various hues of sheer curiosity, amusement, a genuine love of the outré qualities of the artist's work, or just a recognition that, however it has expressed itself, there is a genuine talent at work, albeit one working outside of the usual boundaries of popular music and/or taste. Every now and then an outsider artist even becomes genuinely successful and achieves 'insider' status (I just made that up; Christ knows what 'insider music' would be), but mostly even the successes; Syd Barrett, Captain Beefheart, Daniel Johnston, Tiny Tim – end up inhabiting a kind of twilight zone version of fame that is far removed from the experience of the mainstream artist. People usually discover their work because of its notoriety; by chance, or by reputation, but rarely because it's played in public spaces, on the radio or on MTV (or Spotify, for that matter).
It's notable too, that outsider artists are rarely made famous in the first instance by the public (honourable exception; Tiny Tim, but it seems fairly likely that the public at the time saw him – not surprisingly – as a comedy novelty act, rather than the genuinely peculiar character he seems to have been.) Mostly, it is musicians, followed by critics, who initially recognise the appeal of outsider artists; probably because on the whole they tend to listen more closely to a greater volume/quantity of music than most people and are therefore attuned to listen for something different, whereas those within the talent-spotting wing of the music industry also hear lots of music but have, by and large, been listening for something similar to whatever is successful at the time, or at least something saleable. In a few cases (mostly those already mentioned, but also, far more shockingly, Jandek; a fascinating artist whose massive body of work is surely one of the most forbiddingly bleak and uncommercial in the 'singer-songwriter' sphere) the musicians enjoy some critical acclaim and are invited to come in from the cold, to play some shows and gently erode their mystique. In becoming something more than outsiders, but something far less than mainstream celebrities, the classic outsider artist loses something of their appeal, perhaps because entertaining (or 'entertaining') a real audience, made up of fans and interested parties leads to a significantly different kind of music from communicating with oneself or, at best an imaginary and perhaps ideal audience. It's basically the same process that happens with any artist when they exchange whatever their lives and inspirations were, for the life and experiences of a successful musician.
Naturally, there isn't a vast amount of literature on outsider music; or demand for a vast amount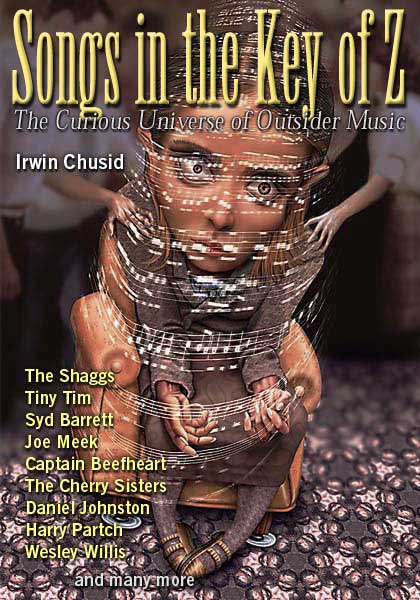 of literature on outsider music, but for a highly readable and well-researched overview, Irwin Chusid's Songs in the Key of Z, The Curious Universe of Outsider Music (Chicago Review Press, 2000) (and the associated compilation album) is still pretty unbeatable (although the old RE/Search books 'Incredibly Strange Music' vols 1 & 2 from the early 90s are also packed with great stuff, not all 'outsider', but all worth a look).
Not appearing in any those pages though, is one of my favourite purveyors of outsider music, the one-man (David Vora) Irish band Venusian Death Cell. I'm slightly reluctant to write about VDC because (a) I have only heard a fraction of his music and (b) labelling someone as an 'outsider artist' feels a bit harsh in a way. Theoretically (and perhaps actually at some point, judging by his extensive bio below) some kind of metal band, there is no metal to be heard on any of the VDC albums I own, perhaps because (judging by sound alone) it's difficult to approximate heavy metal with one guitar, no distortion/effects pedals, a small drum kit, a four-track recorder and one man working everything, and also hard to be metal-to-the-max when singing about soya desserts or 'actor Ian McCulloch' and when one's cover art – though on its own terms highly evocative and suited to the music – is not quite up to the standard of the archetypical Derek Riggs style metal album cover.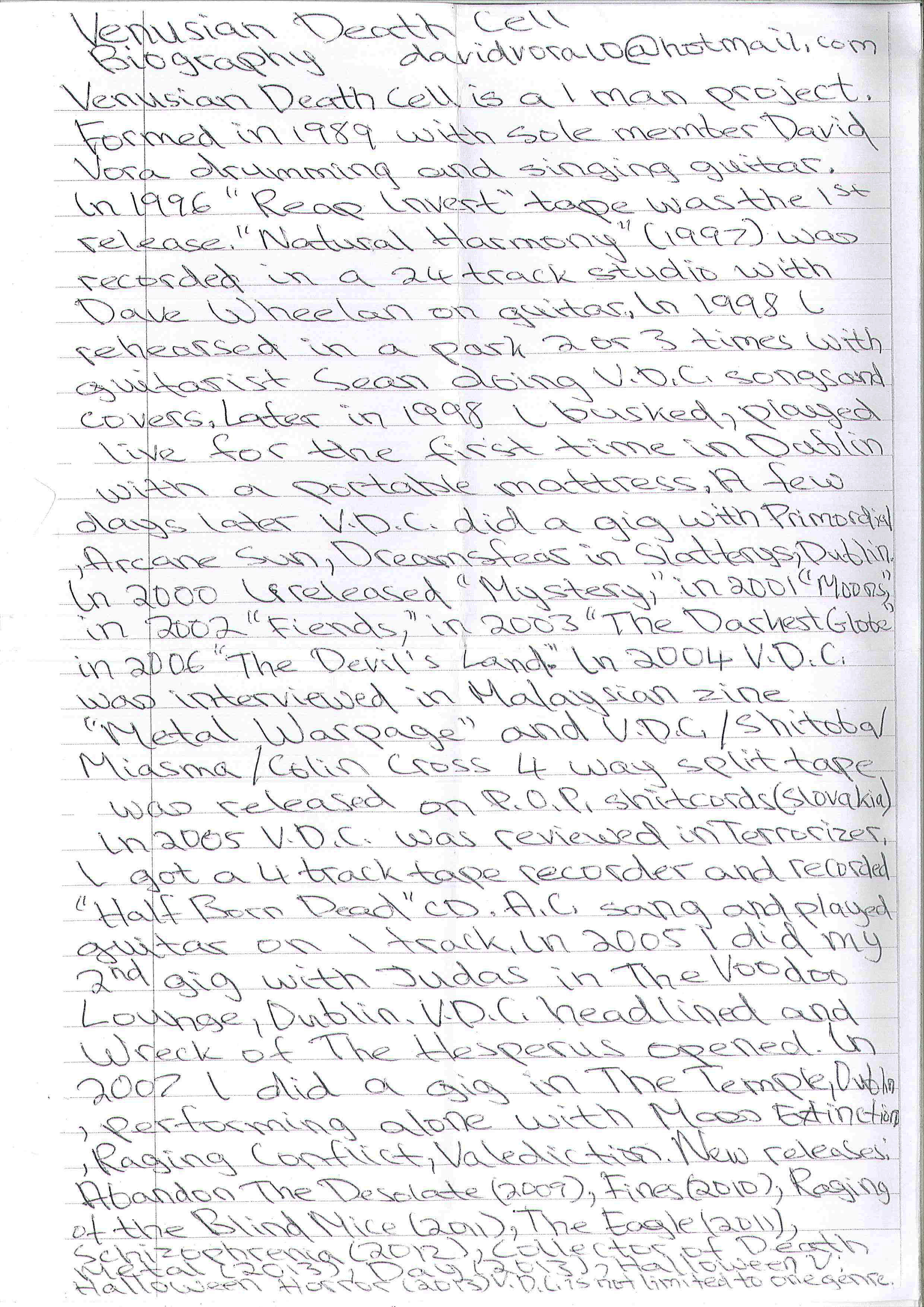 So, the appeal of VDC – in the albums I have – is mainly not its metallic or heavy element. Sonically, the artist Vora's music most resembles is the aforementioned Jandek , but – and it's a crucial part of the appeal of outsider music generally – the personality/atmosphere and themes imbued in Venusian Death Cell's work are entirely unique. Whereas Jandek's work was/is lo-fi as music but mysteriously professional (or at least not hand-made) in its presentation (back in the early 80s he was putting out vinyl albums with picture sleeves just like (well, not just like) any small indie band on an actual label, Vora's is unashamedly home-made, distributed on CD-Rs with photocopied artwork and lyrics. He is also a more accessible person, insofar as his own name, address and email address appear on the album inlays, while Jandek works through the austerely impersonal facade of the quasi-corporate  'Corwood Industries'.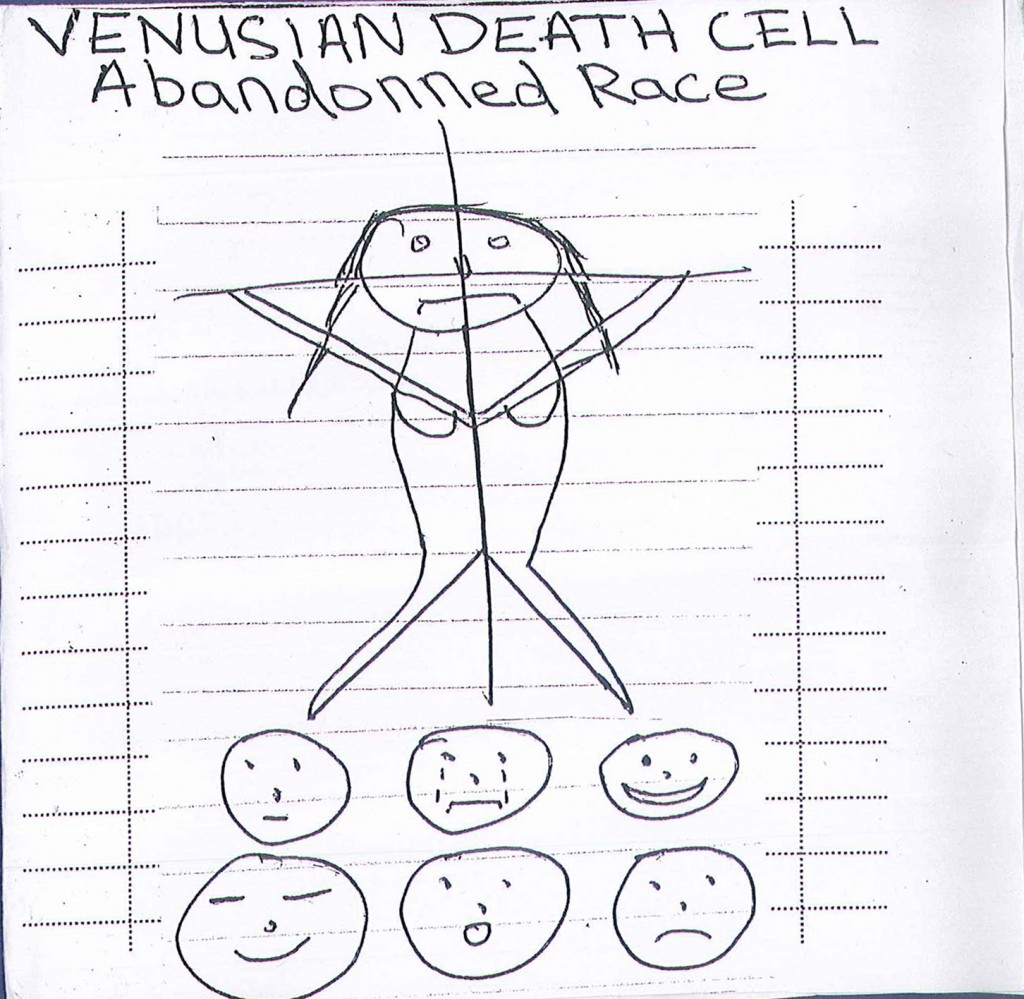 The VDC discography as far as I can make it out is below, it may not be complete and titles of the measly few albums I own are in bold. I will get more of them eventually. Some names may be wrong; I got them from the bio above and they aren't all easy to read.
p a r t i a l  d i s c o g r a p h y
1996 – Reap Invert (tape)
1997 – Natural Harmony (professional 24-track studio recording!)
2000 – Mystery
2001 – Moods(?)
2002 – Fiends
2003 – The Darkest Globe
2004 – VDC/Shitoba?/Miasma/Colin Cross (4-way split tape, P.O.P. Shitcords)
2005 – Half Born Dead
2006 – The Devil's Land
2009 – Abandon The Desolate
2010 – Fines?
2011 – Raging of the Blind Mice
2011 – The Eagle
2012 – Schizophrenia
2013 – Collector of Death Metal
2013 – Day
2013 – Halloween V: Halloween Horror
Halloween V was my introduction to Venusian Death Cell and is possibly my favourite of the three I have. It's definitely the least aggressive-sounding, more like a one-man version of The Shaggs than the metal I expected, despite the imagery and songs with titles like 'Lucifer', Cold Cancer' and 'Zombie Flesh Eaters' (full lyric below, just because). It also has some oddly wistful, quite affecting songs like the haiku-esque 'For You' – "You are depression/Breaking free/Now Happiness/You were alone/Now you're happy/Lovely for you." 
2013 – Abandonned Race (sic)
Far more chaotic and noisy, mainly because it has far more and louder percussion and therefore more shouted vocals, Abandonned Race is also a far less happy experience than Halloween V, but as good in its way.  Topics are bizarrely wide-ranging, from religion, black metal and relationships to mental health and soya products ('Milkland Millennium')
2014 – Honey Girl
The most recent of the VDC albums I've heard, Honey Girl  is also the shortest (8 songs in approx ten minutes) and is very much in the mould of Abandonned Race; sonically slightly harsher than Halloween V, it's a bracing blend of performance poetry, crude proto-noise-metal and therapy; the lyrics are preoccupied with what were presumably Vora's circumstances at the time:
"Heavy drugs, weight gain/Strange happenings/Psychosis and madness" – Psychotic

Terrible paranoid fear/affecting my happiness/eating my mental health…" – Terrible Fear
Despite the explicit unhappiness, Honey Girl isn't the harrowing experience one might expect. Vora's art is cathartic, rather than suffocating, and the cheerful note on the back of Honey Girl's booklet – "Honey Girl is a labour of love! Thanks for listening, hope you enjoyed!" captures the feeling of the music; in unloading his woes, somehow Vora doesn't dump them on the listener. And that, at least partly, is the appeal of the not-very-musical music and apparently random subject matter of Venusian Death Cult. The seeming lack of any kind of artifice is, given the sophistication of most popular music, very appealing. What Irwin Chusid refers to as "the outsider sine qua non of earnestness" is present everywhere in Vora's music. When he writes in the sleevenote to Abandonned Race, "Abandonned Race is a musical journey mainly for my own pain & pleasure rather than proving anything to those who happen to hear it." it rings absolutely true. And this is not a kind of quasi-childlike 'innocence'; Vora's lyrics may not be written in the usual rock music language, but they are highly sophisticated, albeit in a matter of fact way:
Romancy – 1871 Lunacy Act in Ireland/Governs consent issues – /100% capacity to decide or none/Court makes all decisions about your life/(Criminal Law Act 1993)/Offense to have intercourse with mentally impaired/outside marriage (Halloween V: Halloween Horror) The explanatory note after the lyrics reads; "Lyrics are about those with extra support needs and their relationships".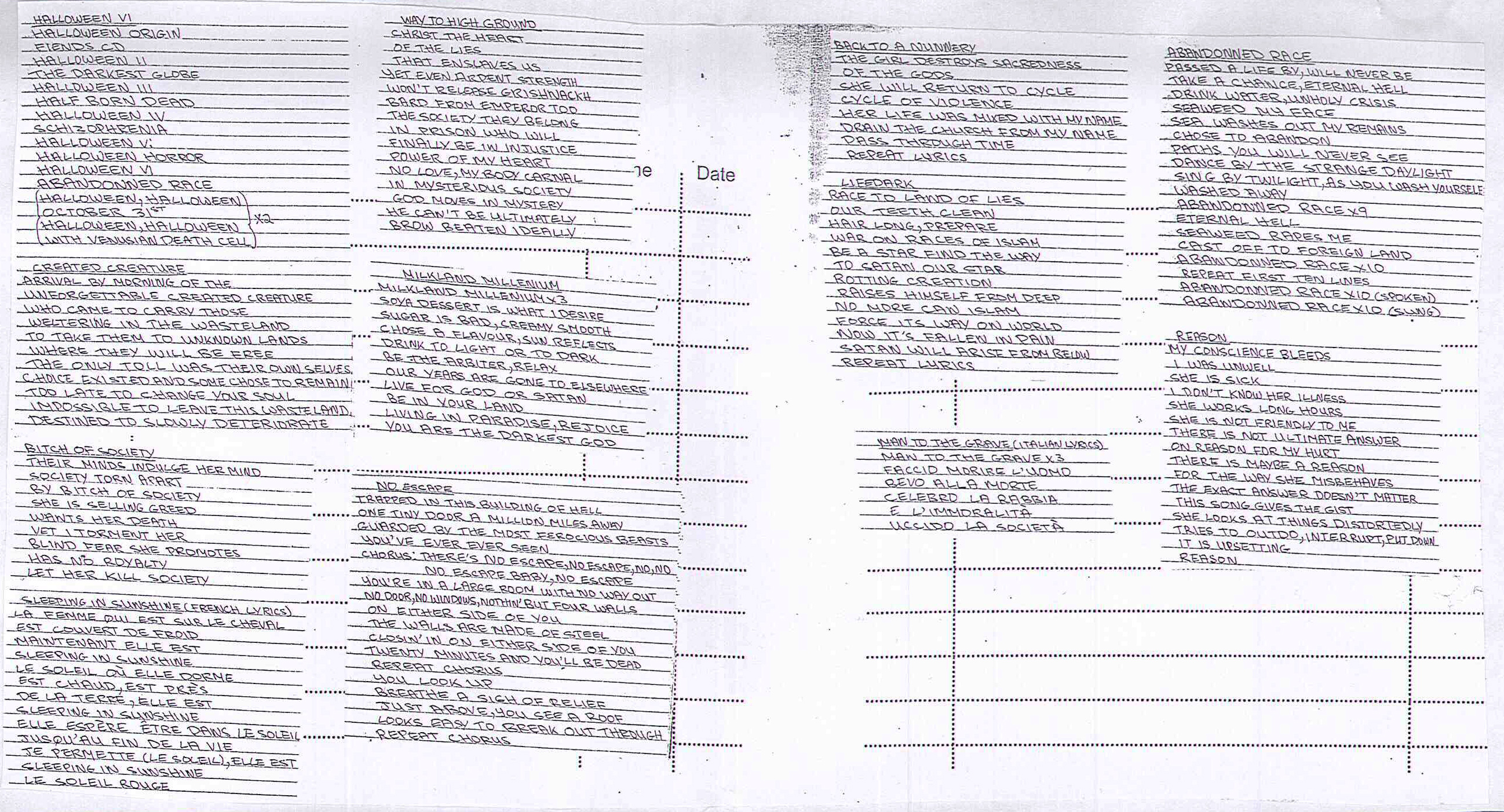 There are also forays into both Irish-language and French-language lyrics; which mean nothing to me, alas, but again underline that this is not a naive talent, just an unorthodox one. Whatever the language, VDC's songs are mostly not all that easy (for me) to relate to; Vora's preoccupations are not necessarily shared by everyone, or very many people at all – but that doesn't make them less engaging. In fact, it's the feeling that the listener is getting a glimpse into the normally private world of another human being – a sometimes troubled mind in all its seemingly unedited variety, brought to you by the medium of (nearly) music, that makes hearing Venusian Death Cell – and outsider music generally – such a refreshing experience. In the universe of Venusian Death Cell, with its seemingly random connections, weird logic and strangely semi-familiar landscapes, you (or at least I) and your everyday world are the outsider. It's an interesting sensation.
Zombie Flesh Eaters

Ian McCulloch stars in films/Zombie Flesh Eaters, Zombie Holocaust and Contamination

Chorus: Zombie Flesh Eaters x 3

Daughter goes to find father/With Ian, the journalist/Zombie adventures on an island

Repeat Chorus

Video…nasties/Eye…gouged/Shark and zombie fight

Repeat Chorus

Notes: Lyrics are about the film Zombie Flesh Eaters, video nasties and the actor Ian McCulloch