1. Jesca Hoop – Memories Are Now (Sub Pop, Feb 2017)  
Not listened to it many times yet, but the forthcoming album from singer-songwriter Jesca Hoop is sounding pretty good so far
2. David Bowie – Diamond Dogs (RCA, 1974)
The death throes of Bowie's glam period are infinitely more interesting (to me) than the Ziggy era, I love this album.
3. Bethlehem – Bethlehem (Prophecy Productions, 2016)
Stunning return to form for Germany's 'dark metal' overlords.
4. The History of Colour TV – Something Like Eternity  (Cranes Records/Weird Books, 2017)
The third album by Berlin indie/shoegaze/noise rock trio The History of Colour TV has some powerfully Sonic Youth-like squalling as well as some really good tunes.
5. Ma Rainey – Black Eye Blues (1930)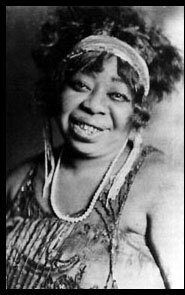 Heartbreakingly sad but also funny and rebellious blues performance by one of my favourite blues singers, with brilliant guitar playing by Tampa Red
6. Heikki Sarmanto Serious Music Ensemble – The Helsinki Tapes, Vol 1, 2 & 3 (Svart Records)
Great, previously unreleased live recordings from the Finnish jazz scene. I was initially a bit disappointed when a singer appeared on some of the recordings, but in fact 'The Pawn' from Vol 2  (featuring Maija Hapuoja) is a moody 'Riders on the Storm'-esque masterpiece.
7. Daniel Land – In Love With A Ghost (2016)
Much as I hate the term 'dream pop', it does suit a lot of the lovely, gently melancholy music on this album
8. Baby Tears – Succubus Slides (Choice Records, 2016)
Cool and unusual hip hop/trap type stuff, she has a style that is not quite like anything else (disclaimer – that I know of)
9. Isasa – Los Días (La Castanya, 2016)
The second album by Spanish guitarist Isasa has a mellow, slightly hungover charm, it's spare, basic sound, accentuating his beautiful guitar playing and the atmospheric power of the tunes.
10. Tom Waits – Nighthawks At The Diner (Asylum, 1976)
One of my favourite Tom Waits albums, a funny, boozy and cheerfully melancholy live album (albeit recorded in somewhat contrived surroundings) I hadn't listened to it for ages but I love it just as much as always.
11. 11Paranoias – Reliquary For A Dreamed Of World (Ritual Productions, 2016)
Forbiddingly sludgy and somewhat psychedelic doom with, crucially, great songwriting to make it more than just a cool sound – an addictive album.
12. Effie – Pressure (2016)
I was sent the promo of this single in the spring and just never got around to listening to it because I assumed it wouldn't be my cup of tea; and it isn't really. But it's pretty good r'n'b/pop really, and she's got a very cool voice.
13. Mithras – On Strange Loops (Willowtip Records, 2016)
Supercharged progressive death metal, maybe their finest album to date
14. The Fall – Grotesque (After The Gramme) (Rough Trade, 1980)
Maybe my favourite Fall album (definitely one of my favourites; so many great tunes, best of all 'Gramme Friday', 'Impression of J. Temperance', 'Container Drivers' – actually they are nearly all great.
15. The Staple Singers – Will The Circle Be Unbroken (Buddha Records, 1969)
Re-release of some of the family's early gospel recordings, incredibly soulful and atmospheric.